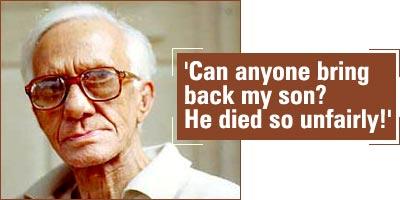 'Nimma manasige samadhanana (is your mind at rest), that your son's killer was finally shot down?' a neighbour asked Abdul Kareem, the father of Sub-Inspector Shakeel Ahmed who was shot dead by the brigand Veerappan, this morning.
"How can my mind be at peace?" demanded the ageing Kareem, his frail frame bent over as he sat in a chair in his home in Mysore.
"They should now go after all the men who helped Veerappan survive all these decades. I personally recommend that they arrest that Nakkeeran Gopal."
Also read: Sandalwood smuggler Veerappan shot dead I The Veerappan saga
'You should at least feel happy that Veerappan is dead,' persisted a bystander, watching a television crew set up a short interview with the nonagenerian.
"I am glad they caught up with a criminal, at long last," the retired police officer retorted sharply. "But this should not be the end. They must investigate all of Veerappan's supporters thoroughly. How dare people ask if my mind is at rest finally? Can anyone ever bring back my strong, young son? He died so unfairly!"
When Veerappan kidnapped Kannada superstar Rajkumar, and demanded the release of prisoners booked under the Terrorist and Disruptive Activities (Prevention) Act as a precondition for releasing the hostage, Kareem fought a lone battle against their release This was because the police had rounded up the prisoners for having helped Veerappan survive and kill so many police officers. Some of them supplied him rice, dal and matchboxes. Others gave shelter to him and members of his group. The rest either kept him informed of the police's movements or helped him escape from their clutches.
Shakeel Ahmed, and his boss, superintendent of police T Harikrishna, were killed in an ambush in the forest by Veerappan in 1992. Stories about just who, if anyone, goofed up in that fatal encounter are still the subject of hot debate in Karnataka.
The story goes that Shakeel, posing as a petty arms merchant who wanted to sell Veerappan some arms and explosives, befriended a wine shop owner who was known to be the dacoit's supporter in Gopinatham village. He even managed to get Veerappan to send one of his close aides, Gurunathan, to meet him.
Shakeel wanted to keep up the pretence of being a corrupt arms dealer, send Gurunathan back to the forest, and use him to get to Veerappan. But some police officers say Harikrishna insisted on taking Gurunathan into custody. 'If only we had let Gurunathan go, we would have reached Veerappan by now,' Shakeel told friends, including some journalists, in the last week of his life.
An enraged Veerappan then laid a trap with equal cunning through a police informer, Kamala Nayak, who suggested that Harikrishna and his men come to the forest posing as buyers of poached ivory. 'They went like a marriage procession instead of using stealth,' wrote P Lankesh, editor of the popular Kannada weekly Lankesh Patrike, referring to how the posse went in an unmarked car followed by a truckload of policemen disguised as coolies.
Harikrishna and Shakeel, who were in the car in front, were shot dead by Veerappan, while the policemen in the truck escaped.
All of Kareem's four sons wanted to join the police, but only Shakeel could make it to the state police service.
More reports from Tamil Nadu
Photograph: Rediff Archives