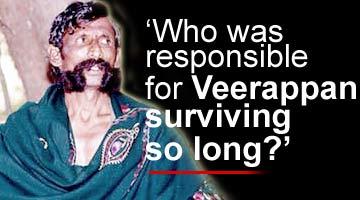 Who was responsible for Veerappan surviving so long?" demands Parimala Nagappa, wife of Veerappan's last high profile victim, former Karnataka minister Nagappa, who died of bullet injuries in the bandit's custody 22 months ago.
"How did he grow so big? These questions must now be answered, and care taken to ensure that such killers are not allowed to grow like this again!"
Neither the survivors nor the families of those he killed seem particularly jubilant about Veerappan's death.
Also read: 'Can anyone bring back my son?'
"They should have caught him a long time ago," says Parimala Nagappa.
"Thank God they did it at least now! God knows how many more people would have died at his hands, otherwise! There was so much fear whenever any VIP came near MM Hills. I cannot understand why it took the Karnataka police so long to catch him."
Also read: 'The STF has been waiting since 1992'
Wildlife photographer Krupakar, who was kidnapped by Veerappan some years ago and then released, describes Veerappan's death as "good news."
Interestingly, he says, he once asked Veerappan how he escaped from police custody in 1986, the only time he was ever caught.
Veerappan apparently replied he paid a policeman Rs 1 lakh to escape.
The bandit refused to name the man, but described him as a 'good man!' to Krupakar.
The man who is possibly Veerappan's earliest recorded victim was a forest guard called Mohanaiah, whom the bandit killed at Palar Gate in 1989. Then he ambushed a Karnataka police party, killing three sub-inspectors and a constable in MM Hills. This incident occurred close to the Hogenekal Falls. They were Sub Inspectors Jagannath, R Ramalingu and Dinesh.
Also Read: End of the Road
Veerappan also started raiding police stations, with the intention of robbing arms and ammunition. At that time, he only got some small amounts of money from poaching, robbery and the ivory trade, and could not afford to buy guns or explosives.
Forest officer Srinivas was the next man to die.
Veerappan sent Srinivas a message, offering to surrender, if the forest officer came alone. Srinivas believed him.
But Veerappan decapitated him, after torturing him. The incident occurred near Yerekehalla, when Srinivas was a deputy conservator of forests in Kollegal.
Then came the case of Premkumar, who Veerappan killed when he attacked the Rampura police station in 1992.
Soon after that brutal attack on the police station, Harikrishna, superintendent of police at Kolar, Sub Inspector Shakeel Ahmed and other police officers began hunting for Veerappan in earnest.
They pretended to be ivory buyers and established contact with Veerappan's gang through a henchman of the killer. But Veerappan discovered this and killed them instead.
"I still remember the first time Veerappan came into my personal life though neither I nor my husband saw him then," says Preetha, widow of Harikrishna, who now runs a gas agency in Bangalore.
"I was in hospital, having just delivered my son, and my husband came in uniform to see me. He had volunteered for the STF for the first time," she recalls. "I never thought Veerappan would kill my husband. Harikrishna must have seen Veerappan face to face only in the last moment of his life. I am glad the police finally caught up with him."
"For a long time, he seemed to be only picking out Karnataka people as victims, both for kidnapping and killing," remarks C Dinakar, former Karnataka director general of police. "Perhaps this was because he liked to be perceived as a Tamilian, living amidst the Tamil people. Also, since he stayed in Tamil Nadu, he needed the support of people there."
In 1994, for the first time, Veerappan killed a Tamil Nadu STF officer, Sendhil Kumar, at Kailasapalyam. Soon after, he murdered Border Security Force Lance Naik Bhupinder Singh near Chengadi. Then came Selvaraj, a head constable from Tamil Nadu at Arepalya in 1996.
Photograph: Rediff Archives
Image: Rahil Shaikh