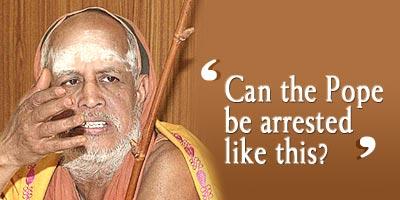 Kanchi Shankaracharya Jayendra Saraswathi's arrest and remand has provoked extreme reactions, some of which are reproduced below.
While devotees were shocked, critics of the seer too expressed surprise at the manner in which the arrest was carried out.
Tell us what you think of the Shankaracharya's arrest.
Praveen Togadia, international secretary, Vishwa Hindu Parishad
"Can the Pope be arrested like this? Will they arrest Imam Bukhari of the Jamma Masjid on Eid as there are so many cases pending against him?"
"Why was the Shankaracharya arrested from Andhra Pradesh, a Congress-ruled state? Why was he arrested at midnight? And why was his arrest made on Diwali day, the most auspicious of Hindu festivals? This is for the first time in the history of Hindus that a Shankaracharya has been arrested."
M Karunanidhi, DMK president
"If a virtuous woman commits mistakes, she can get a pardon by taking a holy bath in the Ganges, but if the Ganges itself commits a mistake, where does one go for pardon? There should be a law to ensure only virtuous persons become saints."
Arun Jaitley, BJP spokesman
"The BJP is shocked. The arrest has surprised the nation and the party. If his presence was required for an inquiry, was the arrest necessary?"
Nischalananda Saraswati, the Shankaracharya of Puri
"It is a sad news for the country. It is a blow to the existence and ideology of Hindus. The very existence of Hindus is at stake. Who will be responsible for the humiliation meted out to the pontiff if he is exonerated tomorrow?"
Ashok Sampath, president, Hindu Makkal Kakshi, Chennai
"I strongly condemn the action. The Sankara Mutt is a 2,500-year-old institution. No Shankaracharya would commit a murder in the garbhagriha."
Photograph: RAVEENDRAN/AFP/Getty Images