The horror story of four Indians who fled a US military camp in Iraq has become an election issue in Kerala.
Aliyarkunj Faisal, Haniffa Mansool, Shahjehan Abdul Aziz and his brother Hameed Abdul Aziz, who hail from a village near Kollam town, had high hopes when a Kuwait-based catering services company recruited them in August 2003.
It was the first time they were taking a flight, and that too to Kuwait.
But their dreams were shattered when a bus at the Kuwait International Airport took them deep into Iraq, where gunfights and missile attacks were the order of the day.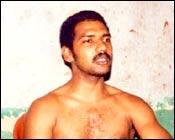 "I shudder thinking about all those days," Faisal told rediff.com on the telephone from his home in Velichakala village. "It was a pitiable, miserable life. I am happy to be alive and back home."
A local middleman working for a travel agency in Mumbai recruited them as kitchen assistants, he said. They paid Rs 80,000 each to get the job. "I had to borrow money to get the job," Faisal said. "We were promised Rs 40,000 every month. But we ended up in an American military camp and lived in horrible conditions."
Faisal said a person in Kuwait took them to the Iraq border, from where they were left in the charge of American soldiers. They travelled in American trucks for three days before reaching the camp, near Mosul.
"I have hardly slept since then," Faisal said. "Because there were missile attacks on the camp every day. We would escape into the bunkers near the camp when the fighting started between the US forces and the Iraqis."
The American personnel taught them how to protect themselves during an attack. "We were trained to remain alert and jump into the bunkers," he said.
Faisal and his friends were not alone. There were many Indians in the camp. "I counted some 30 Indians," he said. "It was a huge camp. All of us were doing all kinds of menial jobs. We got paid every week. But it was pitiable money. I got some $50 every week."
When the Indians said they wanted to return they were beaten up, Faisal claimed.
He said when life at the camp became miserable, some Indians got together and plotted their escape. On the night of April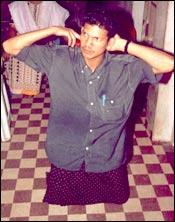 15, they fled. "We paid $20 to an Iraqi truck driver," Faisal continued. "But on the way Iraqi fighters caught us. They released us when they learnt we were Indians."
After reaching Baghdad, the Indians got help from the Indian embassy to travel to Amman and thence to Mumbai. "We went to Kuwait with high hopes and great ambitions," he said. "But it was a wretched life."
This harrowing tale has now become an election issue. Posters against the American occupation of Iraq and the Indian government's failure to check the immigration of people to Iraq for jobs have started appearing in the Ernakulam Lok Sabha constituency.
"There are hundreds of Indians trapped in various American camps across Iraq," Communist Party of India-Marxist leader V S Achuthanandan told an election rally in Kochi. "They are doing all kinds of menial jobs. Why is the Vajpayee government not rescuing them? Why does the Indian government want Indians to be slaves to the American army in Iraq? Vote out the Vajpayee government that supports American imperialism!"
A Kerala government official said travel and manpower agents have been recruiting a number of people, especially former  Indian Army soldiers, for deployment as support service staff to the US forces in Iraq.
A leading travel agent in Kochi, who insisted on remaining unnamed, told rediff.com that he has been recruiting candidates aged between 25 and 45 for Iraq. The candidates have been told they should be willing to work anywhere in West Asia, including Iraq. They have been offered salary packages ranging from $1,000 to $2,000. Generally, Indians who work as security personnel in various establishments in West Asia get salaries ranging from $500 to $700 a month.
The assignments are for periods ranging from six months to two years. In addition to the salary package, the candidates have been offered free flight tickets, food, accommodation, and uniforms.
India is one of the major sources of manpower for backend and supply functions for US military forces in Kuwait and Iraq. Various travel agencies across India have recruited a whole range of military support staff -- chefs, kitchen assistants, service assistants, camp supervisors, mess supervisors, accountants, financial supervisors, and bus drivers.