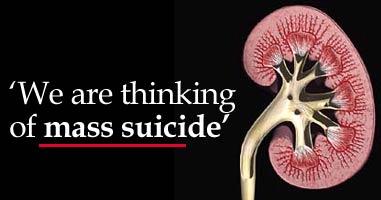 I was at Jayalakshmipuram, a residential area that is part of Nungambakkam, covering the campaign of Dayanidhi Maran, the Dravida Munnetra Kazhagam candidate for the Chennai Central seat.
Dayanidhi had not arrived, so I was talking to a group of women who had surrounded me. Suddenly, an old woman pushed her way through the crowd towards me and said, "Madam, please come to my house and talk to us."
"We can talk here itself," I told her. But she was persistent. "Why can't we talk here? All these people are talking to me...," I said.
"I don't want to talk to you about political parties, Madam. I want you to see my son, who is suffering from a kidney problem. He is dying... I am desperate. Please believe that a helpless mother is calling you. When I came to know that somebody from the press was here, I ran. Please come with me," she pleaded.
Her confession was rather unexpected. We walked towards her house.
Inside, on a cot, was a skinny, tired man with pain writ large on his face. He sat on the bed, his head resting on a stool that had a pillow on it. He raised his head for a moment, then lowered it immediately. It was a heartrending sight.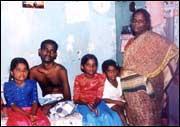 Ganapathy was working as a taxi driver till ten months ago, earning more than Rs 4,000 a month. He had admitted his three daughters to a good school. Everything was going well for Ganapathy, his wife Ramani, their three kids and his mother.
Till he fell ill.
They ran from one hospital to another, until doctors diagnosed kidney failure.
With the cost of dialysis and medicines, all his savings dried up and the family went heavily into debt. Still, his health got worse. The only solution, doctors told them, was a kidney transplant. But when his brother volunteered to donate one, it was found that he had stones; his mother couldn't donate one either as she suffers from high blood pressure.
"I have been taking my son to all hospitals for help," Ganapathy's mother sobbed. "His wife does not have parents. I have told my woes to several politicians. I don't know how I can save my son. His daughters have stopped going to school. My son was the sole earning member of the family. Now, we have nobody.
"Where will I turn to for help? Please think of these small children and help us.
"We are thinking of committing mass suicide. What else can we do? We have absolutely no money for his treatment."
"Please don't talk like that..." I tried to console her.
"When you are writing about the elections, politicians, and big people, please write about this poor family too. If someone comes forward to help, my son will get a life," she said.
As I walked out of the house, I felt helpless. I also thought of Dayanidhi's father Murasoli Maran, who died last year of multiple organ failure.
Ganapathy's address: Old # 10 (36), First street, Jayalakshmipuram, Nungambakkom, Chennai 600034. Telephone: c/o 91-44-52137760. Email: c/o shobha@vsnl.com
Image: Rahil Shaikh