Ustad Vilayat Hussain Khan, who died in Mumbai late Saturday night following a prolonged illness, was one of the greatest sitar players of his generation.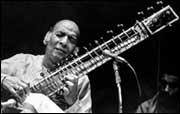 Khan belonged to the family of great sitarists, including his father Ustad Inayat Hussain Khan and grandfather Imdad Hussain Khan, with the family lineage going back to several generations of musicians.
Both of his sons, Sujat and Hidayat, and brother Imrat and nephew Rais Khan are accomplished sitar players.
Vilayat Khan, who used to spend most of his times in his second home in New Jersey in the US, was born in 1928 in Gouripur, now in Bangladesh, and was initiated to music quite early in life.
Since his father died early, he received most of his training from maternal grandfather Ustad Bande Hussain Khan and maternal uncle Zinda Khan.
He did his first recording at a very tender age of eight and went on to achieve worldwide fame with his brilliant sitar playing.
He was probably the first Indian musician to go out of the country and perform in England after independence in 1951.
He maintained this tradition of performing abroad till  his last days as he used to spend eight months a year abroad.
Vilayat Khan, suffering from diabetes and hypertension for long, was recently detected with lung cancer and admitted to Mumbai's Jaslok Hospital on February 26 where the end came at 11.25 pm last night.
He is survived by two wives, sons Shujaat and Hidayat and daughters Yaman Khan and Zila Khan.
Considered by most music critics as the finest exponent of sitar the country has ever produced, Vilayat Khan was credited with creating his own style of sitar play.
Since he had a deep interest in Mughal music as well, he invented the 'gayaki' (vocal) style in sitar playing which used to give the audience a sense of singing on sitar.
For his brilliant sitar play, he was the only artiste to receive the title of 'Aftab-e-Sitar' (the sun of sitar) by President Fakhruddin Ali Ahmed and 'Bharat Sitar Samrat' by Artistes Association of India.
Khan, however, always complained that his contribution to Hindustani classical music had not been properly appreciated by the authorities and that was why he turned down Padmashree award in 1964 and Padmavibhushan in 1968 saying that the deciding committees of these awards were not competent enough to judge his music.
Noted sarod player Amjad Ali Khan who was in the city for a concert described the death of Vilayat Khan as a 'personal loss' and said that Hindustani classical music has lost a great exponent.
"I used to call him bhaiya (elder brother). We had spent several beautiful moments together. He had dedicated his life to the propagation of Hindustani classical music and his contribution will always be remembered," Amjad Khan said. "He was the Bharat Ratna of music world for me."