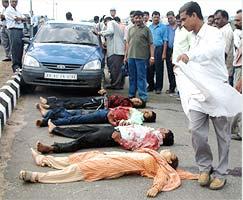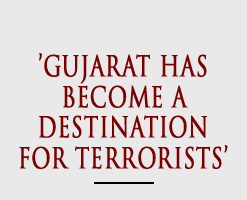 Dahyaji Gobarji Vanzara, additional commissioner of police heading the crime branch in Ahmedabad, has been under the scanner ever since his team gunned down a teenaged college student from Mumbai in an 'encounter' with an group of Lashkar-e-Tayiba terrorists last month.
Ishrat Jahan Raza was shot dead in the company of three Lashkar terrorists, including two Pakistanis. But her friends and family members insist she was not involved with terrorism. (The Lashkar itself has since claimed that Ishrat Jahan was a member of the organisation.)
So, was she really a terrorist or a terrorist sympathizer? In an exclusive interview with Senior Editor Sheela Bhatt, Vanzara defends his boys.
What does this encounter killing of terrorists convey?
After the Godhra carnage and the subsequent riots terrorists of a variety of types and shapes are aiming at Gujarat. Gujarat has become the destination for terrorists.
Some critics believe that more than terrorism, it is fear of terrorism that is more prevalent here. The threat perception is politicised to an extent.
We are in a position to see what you are unable to see. People who think that the terrorism perceived by us is illusory are loose talkers, informal chatters. The people who are a threat to Gujarat have international links. What do the deaths of two Pakistanis prove?
| | |
| --- | --- |
| | Gujarat and the Terror Link |
| | |
It has some local links too. In our investigation of the Akshardham case also we proved that one terrorist cell was supported by four sub-cells. Most terrorist operations are supported by four sub-cells of finance, weapons, fidayeen [team on a death mission], and logistics. Each cell works separately and most times without mutual knowledge. All these cells can function only with the help of local people's support.

When all these cells' efforts are coordinated, terrorist action becomes a reality.

The Akshardham case was successfully investigated and we have busted four sub-cells. After the riots, we have detected 12 such modules so far. We have arrested 83 persons, including three [Hindu] women under POTA. Those women were assisting Chhota Shakeel's hired hitmen Ganesh Khunte and Mahendra Jadhav, who had come to Ahmedabad to kill BJP leaders Ashok Bhatt and Bharat Barot.

Many policemen who are well aware of such encounters argue off the record that Ishrat should have been saved. Some even argue that there is a difference between a criminal and a terrorist.

First of all, those people who believe we should have hit them on the lower parts of their body have no idea of operations of this type. Do you want to say that when Salim, one of the Pakistani terrorists, opened fire with an AK-56, he should have been hit only in the lower body? So that he can hit my men in the upper body?

All these arguments are okay while dealing with the masses.

Second, we had information about three people only. We were expecting three people in the car and not four. We had no idea that a woman was in the car when my boys intercepted them. When Salim jumped out and started firing on my policemen they retaliated.

The encounter went on for hardly 10 minutes and after the guns fell silent we found Ishrat in the car. She had been hit by the bullets.We just did not know she was in the car.

After this encounter, you have claimed success in your follow-up investigation. Can you share some information?

The Jammu and Kashmir police has identified the two Pakistanis. They knew about their infiltration into India and their movements. The Pune police has given us much more information than we expected. It has proved beyond doubt that Javed Khan visited Muscat for 10 days between March 29 and April 11. He used a passport issued in his original name Pranesh Kumar.

Our information is that the conspiracy was planned abroad. Javed Khan was listed as a criminal and a few cases were pending against him. We have reconstructed the movements of Ishrat after May 1. Javed Khan met Ishrat, her mother Shamima, and their neighbour Rasheed in Hotel Taloja in Kalyan.

Javed told Shamima that he need Ishrat for some 'computer' work and agreed to pay her Rs 3,500 a month. He told Shamima that he was involved in some 'do numberi' [illegal] work too and Ishrat will have to pose as his wife if needed.

In first week of June Ishrat and Javed went to Lucknow and stayed in Hotel Mezbaan. They changed their names to Ayesha and Abdul Rahim and stayed as husband and wife. All the hotel owners where Ishrat and Javed lived together have identified them. Salim, the Pakistani terrorist, stayed near Lucknow in Ibrahimpur. Here he asked his hosts Raju and Meraj to get him a sten-gun and pistol.

Since it was election time weapons were easily available. He had an AK-56 which he used to threaten us. Talk about purchase of weapons took place in Ishrat's presence. She knew about the operation to kill Chief Minister Narendra Modi. Her e-mail ID was ishhateseverybody@hotmail.com I wonder, if she was not a criminal, why did she not keep her ID 'ishloveseverybody'?

In your assessment, how many terrorist modules are operating in Gujarat after the communal riots?

We have arrested 16 to 17 Gujarati boys who went to Pakistan via Dhaka and took arms training. When they came back here, well-equipped with weapons, to disrupt Gujarat's economy and kill political leaders, we arrested them. They were motivated by Mufti Sufiyan, maulvi of the Sunnis of Gujarat. When we investigated the Haren Pandya murder case we stumbled upon his anti-national activities. He fled the country. We believe he is in Dhaka. Sufiyan selected boys who were not poor or illiterate. He selected smart, educated Gujarati Muslims without criminal backgrounds.

The other thing we noted was that most of our POTA detainees who are involved in terrorist activities are from the Tableeghi Jamaat. Javed Khan's in-laws are also from the Tableeghi Jamaat.

How is the situation now? What is the current threat perception?

We have already busted 12 modules of Pakistan-based terror groups Lashkar-e-Tayiba and Jaish-e-Mohammad in Gujarat. But I believe tempers are coming down. Muslims in Gujarat are moderate and they understand the situation better. But we have threats from abroad. Our investigations reveal that some groups in Dubai, Saudi Arabia, Muscat and Kuwait are misguiding our people. In view of their activities the serious threat of terrorism remains.

Photograph: STR/AFP/Getty Images | Image: Uday Kuckian