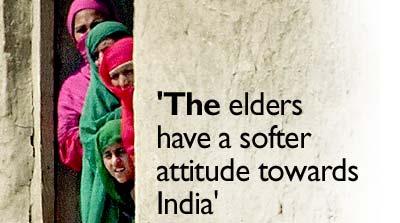 A group of grassroots workers from the South Asia Partnership organisation in Lahore tell Contributing Editor Sheela Bhatt why they think Pakistan is changing.
Part I:
We have never seen changes like these in the last 50 years
Part III: People vote in Islam's name
Today, many more NGOs work in education in Pakistan. This is slowly bringing about change in the country's rural society. I work in the North West Frontier Province and in some tribal areas. Here, the girls are not sent to schools. They have to remain in purdah and are confined to their homes. They have no information about the world around them. We inform them of their rights. The positive change, now, is that they are trying to make sure they are included when community-based organisations are formed in the villages.
These changes make me optimistic. For example, a Pushtun woman called Razia came to meet us in the border town of Murdan. We trained and educated her. This gave her a lot of confidence. Today, even though she continues to live in a completely male-dominated society, she is a councillor in the local-self government. A few years ago, she was not even allowed to step out of her house. Today, she comes to Lahore to attend our meetings.
The elders have a softer attitude towards India on the issue of Kashmir. But the younger generation is taught in schools that India has an animosity with Pakistan.
The maulvis' influence is dominant all over Pakistan. The jihadis are respected. I know of mothers who cry because they have lost sons their sons to jihad. At the same time they say, "Allah ki raah main beta shaheed ho gaya [My son became a martyr for Allah]."
But a change can be seen in the fact that the people living in the border areas have started asking why they should continue to worry about Kashmir when their own problems have not been resolved. People also say if the Kashmir issue is resolved, the money that is now going to the army can instead be used for their benefit. They know that 80 percent of the budget goes in defending the country. People think the government is bankrupt and only rich Pakistanis have money. Pakistan's biggest issue is that the rich are becoming richer and the poor are becoming poorer.
Naima Malik works in the border areas of Pakistan adjoining Afghanistan.
Part I: 'We have never seen changes like these in the last 50 years
Part III: People vote in Islam's name
Photograph:
Jewel Samad/AFP/Getty Images
Image: Uttam Ghosh