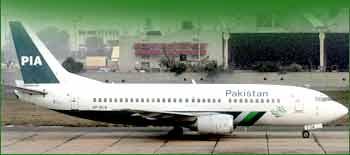 Airports, by nature, are places of bedlam; replete with emotional scenes as families and friends gather to greet or bid goodbye to their loved ones. Even by those standards, Mumbai's Chhatrapati Shivaji Maharaj International Airport is witness to an extraordinary number of visitors and many touching, tearful moments on Friday, January 2, 2004.
No celebrities are expected; yet, the city's media is there in full force. Everyone is on the lookout for that white and green spot in the sky that will soon translate into a familiar airline symbol. The moment is, after all, historic: in a few moments, a Pakistan International Airways flight from Karachi will whistle through Mumbai's airspace and land on a waiting runway.
It will be the first PIA flight from Karachi to Mumbai in a year. Pakistan and India closed their airspace to each other on January 1, 2002, after India's Parliament was attacked on December 13, 2001.
| | |
| --- | --- |
| | Also Read |
| | |
Faiza Memon has no problems passing though the immigration desk or clearing the customs' check. Yet, her heart continues to thud violently. Faiza, a Pakistani citizen, cannot believe her long wait has borne fruit. She is finally in India and soon to be married to the man she has been engaged to for the last seven years.
No wonder, this soon-to-be-bride -- one of the 150 passengers on the historic Karachi-Mumbai PIA flight – cannot stop smiling.
"This is the best day of my life. I cannot believe I am here," she says repeatedly.
After her marriage, Faiza, a citizen of Karachi, will live with her husband and her in-laws in India.
"It has been a long wait for both our families," says a relieved Abdul Ghaffar Merchant, father of Faiza's fiancé, Asif.
Faiza and Asif, who is her first cousin, became engaged to each other when she visited her family in Mumbai in 1996.
"We decided their marriage would take place in three years' time in 1999. But the relations between the two countries went from bad to worse and we had a problem getting the visas. We had no choice but to wait for the relationship between India and Pakistan to improve first," says Merchant.
"At last, after seven long years, there has been a reunion of the family," says Fazia's relieved mother, Jamila Dosani. "We are thankful to the governments of India and Pakistan who have decided to give up their enmity towards each other and reopen the air links between the two countries."
Though Faiza's fiancé, Asif, is not there at the airport to receive her, she is welcomed by more then 40 family members and friends who will be part of her baaraat (wedding procession). As soon as their Pakistani guests arrive, the delighted baaraatis from India exchange greetings with them and distribute sweets. In their happiness, everyone even invites the assembled media persons to attend the wedding, which will take place on January 18.
| | |
| --- | --- |
| | Slide shows |
| | |
"We all are thrilled that they are finally here. We have hired a bus to bring our to be daughter-in-law home," says Merchant.
Faiza, on her part, cannot her joy about her impending nuptials and about being back in India. "I am very happy to be here," she says. "I hope I will have a good future in India. I love this place and I love the people here."
Parwez Ahmed Khan, PIA's manager in India, is also there at the airport to receive the first batch of visitors from Pakistan. "We are starting our operations from India in full swing and we are getting many inquiries about our flight schedules. We plan to begin with two flights a week from Mumbai to Karachi and Karachi to Mumbai every Tuesday and Friday," says a pleased Khan, who remained in India as PIA's only employee during the last year (Read his story here).
The PIA flight from Mumbai to Karachi leaves at 4 pm soon after Karachi passengers disembark and the passengers from India check in. The return flight has 190 passengers on board.
"We are happy the way things are progressing," says Khan, when asked how he feels now that the two nations have opened their airspace to each other once again.
Mohammad Salim Supariwala, who is at the airport to receive his sister, a passenger on the flight from Karachi, is grateful to Prime Minister Atal Bihari Vajpayee who he believes is a man of peace and the one of the best leaders India has ever had.
"I specially want to thank A B Vajpayee for his peace initiatives with Pakistan. I could have not met my sister if Vajpayee was not the prime minister of India. He is a visionary. May Allah give him a healthy life so that he can be our prime minister for a long time," he says.
Supariwala's sister, Ayesha Wahid, was married to a Pakistani in Karachi in 1986. She was last expected to visit her family in Buldhana in 1999.
"But the Kargil war happened. Then our Parliament was attacked. So she just could not get a visa. We had to postpone all our family functions because she could not come here," says Supariwala.
| | |
| --- | --- |
| | Complete coverage |
| | |
Ayesha, who is visiting her homeland after five years, adds, "I had been to Islamabad twice to try and get a visa. But it did not happen both times because of the strained relations that prevailed then between the two countries. The last five years have been traumatic for me because I have had to forcibly stay away from my brother and my family. I am very happy that things are better now and I have been able to come here to meet them."

Ms Abbas, who does not want to reveal her full name, is also waiting at the airport for her young granddaughter, whom she will be seeing for the first time.

"She was born in 2000 and this is the first time I will be seeing her face to face and holding her in my arms. I am very excited that both my daughter and my granddaughter are finally able to visit me," she says. 

Ms Abbas has flown down from Kolkata to receive her daughter, her Pakistani son-in-law and their daughter.

"I live in Calcutta [now Kolkata]. My daughter got married to a Pakistani citizen because she was destined to do so. I only hope that peace continues to prevail between the two countries. It is only then that my daughter will have the opportunity to visit me often," she says.

Asked if he would consider getting his daughter or female relatives married to Pakistani citizens, Supariwala says, "Why not? If the relationship between the two countries continues to normalise, we will definitely think of it. The people in both the countries want peace. They have nothing against each other."

Photo: Prakash Singh/AFP/Getty Images