Ajooba Footwear was not a particularly well-known shoe shop in Mumbai, but 12-year-old Mohammad Ahmed wants it to become very famous and prosperous. When it is rebuilt.
"This was my father's dream," says Mohammad (above) who now works at the Sapna shoe shop next door. "I am now learning  business with the help of my uncles and cousins so that I can take my business places after I grow up," he adds, with a smile.
"He is very sensible and mature for his age," says his uncle Fareed Ahmed. "We hope he learns the tricks of the business soon so that he can work on his own."
Six months ago, on August 25, Mohammad's father Sadiq Ahmed, died in the twin blasts that rocked Mumbai.
Sadiq Ahmed was one of the first people to be declared dead; the taxi in which the bomb was placed at Zaveri Bazaar in south Mumbai exploded in front of his shop, Ajooba Footwear.
Life has not been the same for Mohammad and his sister Sanobar, 17, who have been living on the support of their relatives, some savings from his father and the family's friends.
"I want to complete my graduation," Mohammad says, "but I want to do business after that. I have been coming to my father's shop during my vacations and enjoyed his company. I only wish he was around. I always wanted to be with him and do business but unfortunately he won't be around for me now."
"The family got compensation of Rs 30,000 from the government; another Rs 170,000 has been deposited in the family's name at the post office. This amount will be delivered to them after six years in 2009," says Fareed Ahmed.
The building, where Ajooba Footwear was located, is now being reconstructed. All 20 tenants of the building are disappointed that little has been done by the government to help them.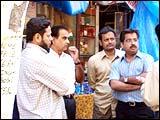 "No one helped us," says Anil Punjabi, a jeweller, whose shop is out of operation. "The politicians made tall promises, but no help came. So all 20 tenants decided to rebuild the building at our expense."
As work on the building goes on the tenants expect to restart their businesses and new lives in three months' time.
But the Congress party has not missed the opportunity to criticize the BJP's 'feel good factor' slogan. There is a large banner at the building's entrance that says 'BJP feel good factor is a fraud.'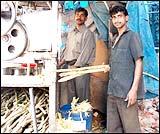 Rafiq Khan (left), who works at a sugarcane juice centre nearby, says, "These politicians will never improve. Instead of helping us they are more interested in scoring a political point. There is no feel good factor in this country nor has the Congress government in our state done anything for us."
"I never heard that kind of sound in my life," Rafiq Khan recalls that fateful afternoon. "The only good thing the blast did was that I fear no more. Nothing scares me, not even death. I saw enough blood then. I saw friends lying in pools of blood and dying in front of my eyes. I have become very strong."
Adds Ramesh Jhaveri, another jeweller from the area, "Life goes on. We have to live for another day and try to think forward rather than go backwards in our life. Bad things happened to all of us here, but that should not last forever. We want to go ahead in life now."
Photographs: Jewella C Miranda
Image: Uday Kuckian