Razia Khatun was eight months pregnant and had a 4 pm appointment with the doctor. Her husband Mohammad Islam Ansari had told her he would come home in the evening to take her to the clinic.
He did not come home that day.
The following morning, neighbours brought his mutilated corpse to the home he had shared with Razia for 10 years.
Mohammad Ansari was a taxi driver. He died in the bomb blast that ripped through the road near Mumbadevi temple in Mumbai's Zaveri Bazar on August 25.
Forty-five days after he died, Razia, 27, delivered their fifth child. She named the girl Rukhsana. Her husband, she says, would have liked the name.
Sitting in her one room house in a suburban slum in northwest Mumbai, her eyes well up with tears as she talks about her husband. The room is small and neat -- school uniforms hang from a hook, a dari [carpet] on the floor, black ribbons, two Indian flags, a black/white television, a spoilt sewing machine.
She does not realise it will be six months since the morning Ansari was brought home, wrapped in a cloth which concealed his badly wounded stomach.
Tabassum Khan, a neigbour, says his face and limbs had smaller injuries but his stomach had ripped open with the impact of the blast.
"It was not easy to get people to bathe the body because of the injuries he had sustained," says Tabassum.
Razia only saw his face. There was some shrapnel injuries but there wasn't much damage to the face of the man she had married in a Bihar village as a 17 year old.
"All my children look like him. None of them look like me," says Razia, looking at four of her children sitting on a dari. Her eldest daughter Rahnuma is 8 and the youngest, Rukhsana is five months old.
Last month, she sent the infant with her mother to their village in Bihar. Left with only a passport picture of her child, she often runs to the phone booth on the street to make quick calls to inquire about Rukhsana from a neighbour who lives near her mother's house.
"Ammi had come to see me. She had to travel three days by train to get here," she continues, "I sent Rukhsana with her because I feel she will be better looked after there."
Two of her older daughters go to the Al-Ittehad Muslim primary school in the neighbourhood and Razia wants them to study as long as they wish. "Their father had wanted them to study. He was not one to fret about having three daughters."
Mehtab Alam, her only son is one-and-a-half.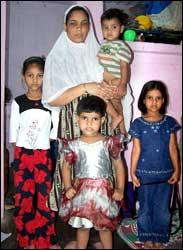 "My son often looks for his father and goes around the house saying 'Abba, Abba'," she says, "Tarranum, my three-year-old tells him 'Abba has gone to the village."
A month after Ansari died, the government gave Razia Rs 200,000 as compensation. She received 30,000 in hand; the rest was put in a fixed deposit at the local post office.
The Rs 1,133 she gets as monthly interest is meagre for her family of six. When Ansari was alive, he made almost five times that amount each month.
Her brother, who came to Mumbai looking for a job shortly before Ansari died, drives a hired autorickshaw and helps the family. Razia's father-in-law is over 70 and rarely drives the taxi he owns because of old age and a nagging cataract problem.
They both live in the same house and her father-in-law, she says, has been ravaged by the loss of his only son. "He had six daughters, one son and he lost him."
It takes a minimum of Rs 50 every day to run the house for her. The girls' school fee amounts to Rs 100 per month and Rs 250 goes to the tuition teacher. Since she herself studied only till class IV, she is unable to help the kids with their homework and says she does not have the skill for a job.
As the girls sit beside her writing Urdu in a notebook, she asks them to bring their report card and reprimands them on finding one torn.
Rehnuma wants to be a doctor and Rukshar wants to join the 'police' when they grow up. Razia smiles and says her daughters are bright and wants them to realise their dreams.
Looking after the children has shielded her from a grief they are too young to understand and in them is her greatest strength.
"My kids are my biggest responsibility. This now is my life."
Photographs: Jewella C Miranda. Design: Lynette Menezes