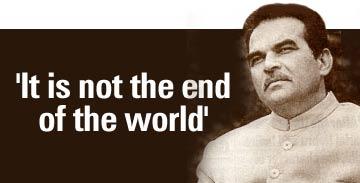 News of Rajya Sabha member D P Yadav joining the Bharatiya Janata Party on February 20 raised questions about the BJP's avowed principles of 'chaal, charitra aur chehra' (disposition, character and fair face). Perceived as an individual with alleged criminal links, Yadav has been mired in controversy from the time he joined politics 15 years ago as a legislator in Uttar Pradesh. He was elected a member of the 11th Lok Sabha and has had stints in the Janata Dal, Samajwadi Party and Bahujan Samaj Party.
Yadav is not rattled by the circumstances that have just overtaken him -- first, admitted to the BJP in a blaze of publicity and then unceremoniously booted out on Tuesday. In this exclusive interview to rediff.com Chief Correspondent Tara Shankar Sahay at his 15, Balwant Rai Mehta Lane bungalow in New Delhi, Yadav gave vent to his feelings.
How does it feel to dropped like a hot potato?
I am not going to sulk over what has been finished and done with. It is not the end of the world for me and certainly not my political career.
Who took the initiative to admit you into the BJP?
The party chief (M Venkaiah Naidu) took the initiative and what can be a greater thing? Everybody knows I couldn't have just walked into it.
What do you attribute your ouster to?
The BJP must have its own reasons .
It cannot be so simple. BJP leaders have described the party as an ocean where all kinds of rivers flowed in after being cleansed.
They (the BJP) must be under some kind of pressure, but I think that it is their internal affair. I don't want to make it an issue.
So D P Yadav is letting the matter fade without a fight?
I have my priorities and cannot mull over what has already happened. I will chalk out my own course.
Your followers say you don't let matters pass so easily.
You are right. I concentrate on the important aspects, leaving out trivia. I am not going to act on impulse.
Does that mean you will hit out at the BJP later?
I have come to where I am by sheer hard work. I began as a simple village pradhan (headman) and have become a Rajya Sabha member. My journey has been eventful and I am satisfied with whatever I have achieved. Now I will try and consolidate my (political) hold.
The BJP couldn't have admitted you unless you wanted to join the party.
Of course, I was influenced by the party's political thinking. And when they (the BJP leadership) gave the green signal, I joined it. Of course, it really doesn't matter to me what has happened.
What exactly transpired when you rang up Venkaiah Naidu this (February 24) morning?
When I came to know they (the BJP) were having problems (following the media uproar over Yadav's alleged criminal links), I did not make an issue.
Does your brief entry and subsequent ouster from the BJP reflect indecisive leadership in the party?
Certainly, indecision is obvious. It is clearly reflected in the decision which was taken today. It mirrors something which should not have happened.
Did your negative image brings things to pass?
There is nothing wrong in my image. It should be evident to you that when the BJP took my support, its leadership found my image fine since 1998 (when he began to support the National Democratic Alliance as an Independent member of the Lok Sabha and thereafter as a member of the Rajya Sabha).
Is it large heartedness which is making you forgive the BJP's faux pas?
Somebody at some juncture has to make some sacrifice. I felt if Venkaiahji or some other leader was embroiled in some controversy over my joining the party, it was better for me to make the sacrifice.
The cancellation of your BJP membership comes just two months before the general election. Won't it adversely impact you?
I will go to the people as I always have. They will decide my fate. If I have worked for their welfare they will definitely support me. It is because of their support that I have become members of both Houses of Parliament and I don't think that is a small achievement. My image is in my and the people's hands.
Why did you say you were influenced by the BJP?
It has a good image because it is doing good work for the country. It should continue doing so.
What is your strategy now that you have been ejected from the BJP?
I have called members of my Rashtriya Parivartan Party to take stock of the political situation and chalk out our election strategy after due discussions. I am optimistic about my future.
Could you comment on the 'criminal' tag attached to you?
Defamation is the most convenient tool to tarnish anybody's image in politics. The less said about it, the better.
Image: Domnic Xavier