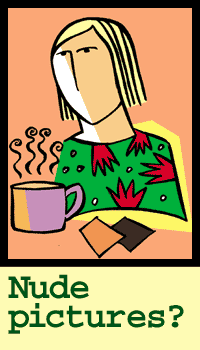 One of our most demanding editors looked up her list and sent me to do a story on young models in Mumbai. After fixing a time with one of the hot male models in the circuit, I waited for him to show up at a hangout near my home.
The hunk walked in -- loose linen drawstring pants, ultra cool shirt -- got his cup of coffee and put two of his photographs on the table.
The pictures did not do him justice. He was blonde and long-haired; in the photographs, his hair was short and brown.
"Don't you have new pictures?" came my opening line. No hello, no how are you; I needed the photographs first.
He looked aghast. As if he would pass out on his coffee.
"What?" he asked nervously.
"I want some new pictures," I repeated and took another sip of my coffee.
He came closer, lowered his head and blurted: "Nude pictures? You want nude pictures??"
"No! Not nude pictures, I want RECENT pictures of you," I said, quite horrified. The dude had obviously misheard me.
If not for the coffee, I was ready to pass out.
Archana Masih, Mumbai
Thank God for St Valentine
I fall into the chair and nearly throw my bags on the floor. I've been shopping for two hours and I'm tired. It's a beautiful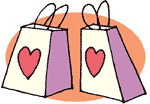 day. Joyous laughter fills the air. I look around. Everybody looks happy. After all, it is Valentine's Day.
I am sitting in the food court at the mall. The delicious smell of chicken wafts through the air. My stomach rumbles; it sounds like thunder. I am sure the family of six enjoying their meal at the next table can hear it. They look so content that I almost envy them.
My stomach rumbles again and I turn my attention to the Japanese restaurant. I am almost tempted to try the free samples being offered. Standing in the long queue of customers waiting to place their order is a tall and well-built young man. He is dark-skinned, has lovely almond shaped eyes and a perfect nose.
As he picks up the tray and turns around, he catches my stare and winks. My heart skips a beat as he places the tray on my table and kisses my cheek. I give him a weak smile and start attacking the food but not before I silently thank St Valentine. This is the first time in eight years that my husband has come shopping with me.
Megana Hemanth, Tempe, Arizona

The tangerine-coloured dress
It was an uncomfortably hot day and the only thing on my mind was a salary hike as I negotiated the roads of Chennai on my way to work.
At the signal, a beautiful girl stopped her car next to my motorbike. She was wearing a well-fitted tangerine-coloured dress. I couldn't take my eyes off her.
Suddenly, she turned and looked at me. Our eyes locked. At that moment, all I wanted was her phone number. Maybe I could give her my e-mail address and my Yahoo chat id and my chat handle and...
The light turned green. She raced ahead and I was left gasping in the middle of the road. I tried to catch up with her only to be flagged down for speeding. As a result, I was late for office by more than an hour. To add to my misery, my boss was already in his seat, beckoning at me.
I dashed to his cabin and heard him yelling at someone over his mobile phone. Then he said, "Meet our new colleague, she is joining our team." A sweet voice behind me said hello.
I turned around see a beautiful girl in tangerine-coloured dress smiling at me. "Haven't we met before?" she asked after a pause. "Aren't you the guy in the black bike with a twisted handle bar and a message over your helmet, 'All men are from Mars...'"
Vijay Durai, Chennai
Can you run?
It all started as a challenge. 'Can you run?' I asked myself. That set the tone for the journey. I decided to do the Dream Run -- all of seven kilometres -- at the Mumbai marathon.

I had only six days to practise. During those six days, I ran every morning. Sometimes, I ran in the evenings as well. My calves protested. As did my ankles and feet. My back kept telling me I had bitten off more than I could chew.
But I had already told everyone I was running. I could not back out now. I kept practising.
D-Day arrived. I reached the venue a good hour before the race began. The atmosphere was something else -- the festivity, the smiles, the cheering -- as people of all shapes, sizes, ages and backgrounds crowded each other for space. A big group of my colleagues and friends were running. They were as unsure as I was about being able to complete the marathon, but were just as determined to give it a shot.
One hour, two minutes, 22 seconds later, I had done it. I had finished the Dream Run. More important, the thought of giving up had not crossed my mind at any point. 
The ad for the marathon had read, '7 km. 21 km. 42 km. How long a story will you tell your grandchildren?' My story lasted seven kilometres. Long after Mumbai would have seen many marathons, I will tell my grandchildren I participated in the first one. And I finished it.
Surendar Singh, Mumbai
Illustrations: Uttam Ghosh