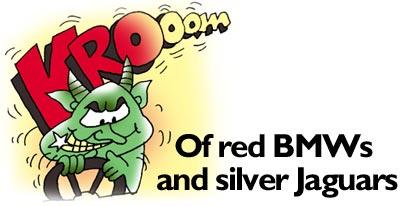 Very reluctantly, I had to part with my favourite red BMW coupe. I still have my silver Jaguar though. But, then, it is a different feeling owning two cars.
So what if they are remote-controlled, run on rechargeable batteries, are at least 100 times smaller than the real thing and I am on the right side of 30? What does age have to do with toy cars anyway?
Being in a pressure cooker work environment does crazy things to your mind and you do crazier things to de-stress yourself. I bought the two cars at precisely such a moment.
My wife, who plays my conscience keeper, convinced me to give one to my two-year-old niece.
Just then, a little man with horns whispered into my ear. "It is such fun owning two cars," he said, eyes glinting. "You can pit one against the other and race to your heart's content. When you are angry, you can bang both."
One week extended into two, which extended into a month. Then, my niece landed up at home. After dilly-dallying for almost an hour, I was forced to vroom my cars out of their hiding places. Gleefully, she picked up the red one.
The little man with horns reappeared. "Tell her you will give it to her tomorrow," he whispered. Just then my niece turned around with the most angelic, dimpled smile I have ever seen and said, "Thank you."
Sharing does have its joys.
R Swaminathan, Mumbai
'Feel my grip'

He was over 80 years old. He had never been hefty, but now he simply disappeared under the sheets. Once a strong-willed, masterful man, he was now cadaverously thin, toothless, partly blind, barely conscious and hovered on the edge of senility.
My father knelt by his bed, "Hello uncle."
In a rare moment of lucidity, my grandfather managed to focus. "Aaah... Who is it?"
"It's me, Sudhir."
"Sudhir... how are you?"
"I am fine."
"How is your wife?"
| | |
| --- | --- |
| | Have you read? |
| | |
"She is fine. How are you?"

"I am fine... see?" He struggled to pull his hand from under the bedcovers and angled it in the arm-wrestling stance. "Feel my grip."

"Eh?"

"Feel my grip. See how strong it is."

It was mom's turn. She was flabbergasted when my grandfather extended his hand; it was the first time he had done so in the 36 years she had been his daughter-in-law. They shook hands. My grandfather's hand closed over hers in a strong grip, startling her tremendously.

"Feel my grip."

When it was my turn, he asked about my health and when I was getting married. Then, he offered his hand.

"Feel my grip."

His hand was old and shrunken, but his grasp was amazingly strong. He seemed to be using it to hold on to life.

A few days later, we got a call. My grandfather had passed away. Time had won after all.

Ketan Joshi, Mumbai

A religion called cricket

The light from the screen cast an eerie glow in the otherwise dark room. Now and then, the silence of the night was pierced

by a shout of joy or a cry of anguish. The smiles on our faces waxed or waned depending on the changing numbers before us.
No, we weren't a bunch of weirdos in the middle of some crazy ritual; we were a microcosm among the millions of fanatics of a religion called cricket and, at two in the night, we were watching its God in action. Sachin Tendulkar was back in form in the last Test against the Australians.
To tell the truth, we weren't even 'watching' the match. Sitting in a land where cricket is still the insect in the garden -- we could not afford a Dish network -- we were following the live scores and commentary on the Internet.
Am I crazy? Maybe. Maybe not.
With a dad who woke me in the middle of the night to ensure I didn't miss Sachin annihilating the South Africans and cousins who wouldn't let me get up because they believed India scored more runs when I was sitting, it is no wonder I will give up sleep to see Anil Kumble spin out the Australians.
Cricket to me symbolises our eternal optimism despite repeated failures, our passion to win despite the laidback national attitude, the ability to break the invisible walls dividing society and, more than anything, a great diversion from our mundane, problem-ridden lives.
Go India, I will always root for you.
Deepa Sundararajan, Chicago
A masterful con job

I hate taking out the car on holidays. When I tell you I live in Mumbai, I'm sure you'll understand why.
Two Sundays ago, however, I agreed to drive my family to meet my in-laws. The traffic, even by regular Mumbai standards, was terrible. After intermittent crawls, interspersed with long pauses, it was nearly our turn at the signal. There were just four or five vehicles before me, so I was sure I would get through.
Just as the light turned green, a pedestrian came between my car and the truck ahead. Then, he acted like he was stuck. My nerves were already frayed battling the traffic. I yelled at him. He yelled back. Impatient drivers honked around us. I gave up and decided to move on.
It was nearing 9 pm and we still had an hour's drive ahead of us. I asked my wife to call her parents and let them know we were on our way. That's when we realised the mobile phone, which I had kept on the dashboard, was missing. We promptly parked the car and subjected it to a thorough, if fruitless, search.
I remembered the argument at the signal. It had been a masterful con job -- one man distracted the passengers while the other stole whatever valuables he could.
Ram Iyer, Mumbai
Illustrations: Uttam Ghosh