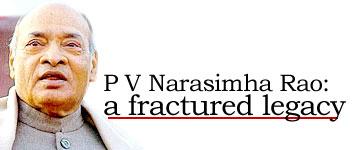 P V Narasimha Rao, who passed away on Thursday, was on the verge of self-imposed retirement from public life when the turn of circumstances brought him to the prime minister's chair in 1991. The Congress was the single largest party in the Lok Sabha, but its prime ministerial candidate Rajiv Gandhi had been assassinated in the midst of the election campaign.
It was not the best of times to be prime minister of the most raucous democracy. Along with a near-empty treasury, the nation had experienced a severe bout of political instability. But Rao not only steered the nation out of the corner it was in -- it was under his directions that finance minister Manmohan Singh launched the economic reforms -- he also became the first prime minister from outside the Gandhi-Nehru family to complete a full term in office.
Yes, controversies dogged his tenure: the Babri masjid demolition, stock market scam, Jain hawala scam and the JMM bribery scandal, plus Rao's association with godman Chandraswami which gave rise to speculation about power-brokers in the Delhi durbar.
Rao was also one of most erudite prime ministers the nation has had. His mastery over many languages, his understanding of international affairs, political acument combined with his low-key style, mark him out as among the leaders of the last century.
How do you view P V Narasimha Rao's legacy? Tell us.