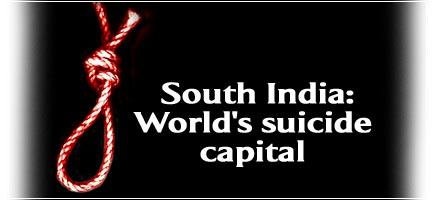 Out of every three cases of suicide reported every 15 minutes in India, one is committed by a youth in the age group of 15 to 29.

In the Union Territory of Pondicherry, every month at least 15 youths between the ages of 15 and 25 commit suicide.

In 2002, there were 10,982 suicides in Tamil Nadu, 11,300 in Kerala, 10,934 in Karnataka, and 9,433 in Andhra Pradesh.

In 2003, the largest number of farmers -- around 175 -- committed suicide in Andhra Pradesh.

Kerala, the country's first fully literate state, has the highest number of suicides. Some 32 people commit suicide in Kerala every day.
These statistics are startling. Southern India is the country's information technology hub. The southern region is competing with northern India to become the country's economic powerhouse.
But south India has another distinction, one that it would rather not have: the region accounts for the world's largest number of suicides by young people, according to The Lancet, the respected British medical journal.
Some 50,000 people in the four states of Kerala, Karnataka, Tamil Nadu and Andhra Pradesh and the Union Territory of Pondicherry kill themselves every year. This statistic becomes even more alarming when you consider that the total number of suicide cases recorded in the whole of India in 2002 was 154,000.
The Lancet has published an authoritative study on suicides in southern India in its April edition. The study says the suicide rates among young men and women in southern India are the highest in the world.
The study conducted by the Vellore-based Christian Medical College on teenagers in Tamil Nadu, especially in the Vellore region, found that the average suicide rate for women is as high as 148 per 100,000, and 58 per 100,000 for men.
Worldwide, this rate is 14.5 per 100,000. Also, in the West, men are three times more likely to commit suicide than women.
"This is just the tip of the iceberg," says Dr S K Vijayachandran, nodal officer for Kerala's district mental health programme. "It is not youngsters alone. More people in the southern states belonging to every walk of life are killing themselves than in other regions in India."
For instance, the suicide rate in Kerala was about 32 per 100,000 persons in 2002, thrice the rate in India as a whole. "This is a huge problem," Dr Vijayachandran says, "which requires urgent intervention."
Experts like him put forward various reasons for the dismal state of mental health among people in the South. Some of these reasons, which mental health experts term 'acute stress factors,' include:
Family conflicts, domestic violence, academic failures, and unfulfilled romantic ideals.

Voracious appetite for high-end consumer goods spurred by moneylenders and hire-purchase schemes.

The wide gap between people's aspirations and actual capabilities.

The disintegration of traditional social support mechanisms as was prevalent in joint families.

Emergence of a trend towards nuclear families, alcohol abuse, financial instability and family dysfunction.

A growing population of the aged.

Failure of crops, huge debt burdens, growing costs of cultivation, and shrinking yield.
Two years ago, the National Crime Records Bureau noted that out of every three cases of suicide reported every 15 minutes in the country, one involves a youth in the age group of 15 to 29. 'Youth and middle-aged (30 to 44 years) are the prime groups taking recourse to the path of suicide. Of the total suicide victims, around 37.6 per cent are youths in the age group of 15 to 29 years,' the Bureau said in a report.
Interestingly, Uttar Pradesh and Bihar, which have much higher populations and far lower levels of literacy, report fewer suicides. In 2002, Uttar Pradesh and Bihar accounted for 4.8 percent and 1.7 percent, respectively, of the total number of suicides in the country.
But not everyone is convinced by these figures. "In northern Indian states, there is low level of registration of suicide deaths in police stations," says Sunder Rajan, a retired Tamil Nadu police officer. "Therefore, no figures about suicides in the country can be relied upon for any scientific analysis of the problem."
On its part, the National Crime Records Bureau has one main reason for the increasing suicide rate in the country: 'Family problems.'
Psychologist Mathew Kurien of the Southern Medical Centre, Bangalore, agrees. "In this modern age," Dr Kurien says, "children are not brought up peacefully. They are under pressure to deliver at school; they are under pressure to appear for competitive examinations. After they reach puberty, no one in the family gives them any advice about the meaning of life."
Dr Kurien's argument is borne out by the fact that every year, when the results of secondary and intermediate school examinations are announced, counselling centres across the country are flooded with distress calls from students. "I get hundreds of calls from students who are contemplating suicide because they could not achieve the good scores expected by their parents," says Elizabeth Vadakkekara, co-ordinator at Thrani, a counselling centre in Thiruvananthapuram.
Vadakkekara says the only way to make India, especially the southern region, less suicide prone is "to make life easy." Of course, that is easier said than done.
Image: Uday Kuckian