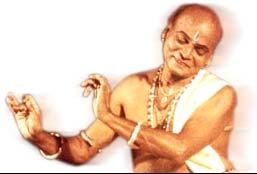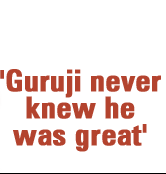 My first meeting with Guruji Kelucharan Mohapatra was in 1968 when Sonal Mansingh, I, and a sitarist from Bengal travelled together in the then Soviet Union. So my association with Guruji started 36 years ago. Though I did not learn from him and can't claim to be his disciple, we had mutual respect. That is because he was a great admirer of all dance forms. He never had a closed mind.
During the Russian tour, I, Sonal, and Jaya Biswas [the sitarist] used to share two hours every evening when each of us would perform for 40 minutes. Guruji would join us and he used to play the pakhwaj when Sonal danced. It was a great experience watching him do that for his disciple. He was such a loving person, so compassionate that he used to help Sonal with her makeup too. Which guru would do this? It was a rare sight.
I very vividly remember an incident in Moscow. I was singing some light songs and he volunteered to accompany me on the pakhwaj. I can never forget that moment. Imagine a person of his stature doing that for me; I was not known as a singer. But he willingly came forward and said, 'I will join you.' And he sat and played for my singing and not my dance! It is very hard to find a person so unassuming.
The greatest thing I can say about him is that he never knew he was such a great man. He was not conscious of his greatness and achievements.
When I invited him for my Natyashastra camp, which I held on the outskirts of Bangalore some 15 years ago, he accepted the invitation gladly. He brought with him Kumkum Mohanty, who is also a very dear disciple of his, and stayed with us for four days. We had 50 participants from all over the country and Guruji was visiting professor at the camp. The camp was like the gurukuls [residential schools] of ancient days. So, for four days, shishyas [pupils] and gurus stayed together, interacting all the time.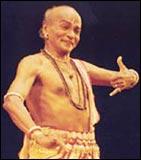 He was not only a great guru, but a great dancer too. Guruji would dance and put to shame all the young dancers at the camp. It was so lovely to have him with us for four full days. When we discussed a dance movement, he would immediately get up and dance. He would not wait for any of his disciples to dance. I would say that group of participants was so lucky to have him with them.
When I danced my karanas at the camp, he would dance the related movements in Odissi, and we compared both. For hours and hours together we discussed the various aspects of dance.
Right from the time we first met in 1968, he was very fond of my dance. And we were constantly in touch. We also used to meet regularly at various conferences and dance festivals. I still remember meeting him at the Konark Festival 10 years ago. He came solely to see my dance performance and came backstage to congratulate me. I was so happy to see him.
He was like a child. He never put on any airs. He was a very pious person too. I remember him as a man who was deeply devoted to Lord Jagannath. I also remember him praying before each performance.
It was Guruji who brought back to life the type of dance that was frozen in temples as sculptures. He gave new life to an old art. He came from a traditional dance family, but he added beauty and refinement without losing the roots of Odissi. What was so great about him was that he looked back to our own roots and our own sources to create something absolutely new and beautiful. His death is a great loss to the entire dance world.
I want to convey my sincere and heartfelt condolences to his wife and his family and his extended family of all his shishyas, mainly to Sonal Mansingh and Kumkum Mohanty.
Dr Padma Subramaniam, world-renowned Bharat Natyam exponent, spoke to Shobha Warrier.
Photograph: Avinash Pasricha | Image: Uday Kuckian
Sonal Mansingh pays tribute: 'Guruji shaped the renaissance of Odissi'