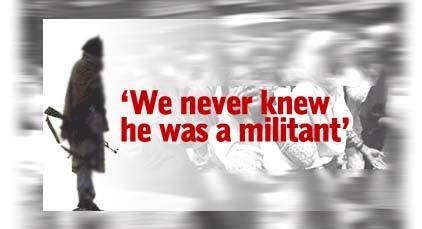 The second of a four-part series. Read Part 1.
The theory that unemployment and economic needs thrust Indian youth into terrorism does not always hold true. Police and intelligence officials say increasingly it is the mind -- not money -- that prompts educated youngsters to embrace a life of violence: they fall in love with a cause, adopt it, and die for it.
"Some recent strikes disprove the belief that separatism in Kashmir had totally economic roots," says a senior police officer in Srinagar. "They were carried out by some educated local youth belonging to affluent families who had an assured future."
A case in point is Nadeem Khatib from Srinagar. Khatib was a pilot who had lucrative job offers from companies in the West.
After acquiring his pilot's license from Georgia, USA, he worked as an instructor in a flying school. Then he joined Pakistan-based Al-Badr terrorists.
Khatib's father Inayatullah, who retired as a government servant, had no idea about what his son was doing. He received emails regularly, and, as far as he was concerned, there was no cause for worry.
Then one day in 1999, Inayatullah was told security forces in Jammu and Kashmir had shot his son dead.
"We thought he was in the US," Inayatullah says. "He would always call us and say I am fine. We never knew where he was calling from. We never knew he had joined the militancy."
"He was such a brilliant student. I do not know how this urge to join the militancy grew in him."
The Jammu and Kashmir police relate another instance in which the son of a college teacher drove a car loaded with explosives to the Indian Army headquarters in Srinagar and blew himself up at its entrance.
"The commitment for jihad among such youth cuts across family loyalties as well," the police officer says.
In Mumbai, after the August 25 serial bomb blasts, the police identified C A M Basheer, an aeronautical engineer from Kerala, as a suspect.
Basheer, once president of the banned Students Islamic Movement of India, hails from a middle class family in Aluva. He is reported to be now operating from the Gulf -- possibly from Dubai or Saudi Arabia.
The police say Basheer  is the key fund-raiser for many Islamic terror outfits across India. They believe he has visited Pakistan many times.
Mohammed Ali, a college friend, remembers Basheer as a very bright student. "He always wanted to be an engineer," Ali says. "I really do not know how religious fervour can make people mad."
Kerala's Director General of Police Hormis Tharakan says the police has evidence to prove Basheer's involvement in the Mumbai blasts. They are now verifying reports he trained several people in northern Kerala's Muslim-dominated Malappuram district in subversive activities.
The Kerala police, who sent a detailed dossier on Basheer to the Intelligence Bureau, say his biggest ambition was to get SIMI cadres trained and funded by Pakistan's Inter-Services Intelligence.
Basheer studied at the UC College, Aluva, before joining the Aeronautical Engineering College, Chalakudy, in Kerala. He joined a flying institute in Bangalore and later worked at the Mumbai International Airport.
In 1990, he quit his job to join SIMI fulltime. In 1991, he organised the All-India SIMI Conference at the Bandra Reclamation grounds, northwest Mumbai, which more than 10,000 people attended.
"Our suspicion about Basheer grew because soon after the (1993 Mumbai serial) blasts, he fled to the Gulf," DGP Tharakan says. "He is not very active in SIMI these days, but he has close links with other Islamic groups, perhaps even terrorist outfits."
Basheer's family in Aluva, whom the police have interrogated many times, say they are not in touch with him anymore.
The police believe Basheer floated two organisations from the Gulf, through which he funds Islamic outfits across India.
Written by George Iype. Reported by George Iype and Mukthar Ahmad.
Design: Uday Kuckian