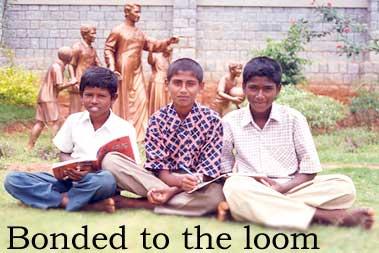 Like most children, 13-year-old Shivakumar (seated left, Srinivasa and Manju) is bright, chirpy and endearing.
He wants to be a doctor when he grows up. But he is in class five when he should actually be in class nine.
The reason he is in class five is that Shivakumar, for many years, was a child labourer in one of the numerous silk factories that dot Karnataka. He was reeling and twisting silk, strengthening the pure and brittle fibre so that it could be spun into yards of soft, expensive fabric.
His hands bear testimony to his past. They are coarse and have thin scars; his fingers are twisted. Shivakumar would have to dip them in boiling water to get the fibre out of the cocoons. He would graze them on the coarse fabric for over 10 hours every day as he twisted the threads.
Finally, he paid the price for his hard work. His third finger was cut when it was caught in one of the spinning machines.
It happened because, one day, five minutes before closing time, Shivakumar took his eyes off the machine he had been working on since 8 am. The distraction proved expensive. His finger caught among the plates.
"I had been working since 8 am. There were just a few minutes left before the clock would strike 6 pm when I could leave. I turned to look at the clock to see how much time was left and my finger got caught in the machine. My parents scolded me a lot; they said because I didn't do my work properly and got distracted, I had to suffer," he says.
Magadi, a district about 80 kilometres from Bangalore, where Shivakumar is now rehabilitated, was once a busy silk hub where silk thread was reeled, wound and twisted.
In 1998, about 8,000 to 10,000 children were bonded to the 1,000-odd silk factories in Karnataka's Magadi district. Now less than 1,000 children are estimated to be working at the less than 300 factories that remain.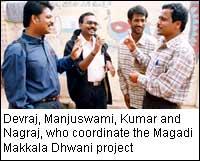 This change is the result of the Magadi Makkala Dhwani project, which began in 1998 and covers 120 villages in the district. With the help of UNICEF and the support of the government of Karnataka, the group has turned Magadi into a model for anti-child labour activists throughout the state.
The Magadi Makkala Dhwani works towards rescuing and rehabilitating the children working in Magadi's silk factories. It also educates the local community (parents and factory owners) to create awareness about the violation of children's rights and hopes this will reduce and ultimately prevent the use of child labour in the sericulture industry.
The project is unique in that it involves a close partnership between government bureaucrats and non-governmental organisation workers.
After his accident, Shivakumar ran away from the factory and caught a train to Bangalore. He was found at the railway station by volunteers of Don Bosco, a charity organisation that helps street children and runaways.
Don Bosco is one of the four NGOs involved in the Magadi Makkala Dhwani project; the others are Chiguru, Vikasa and ICDSS, now known as Sankalp.
India is the world's largest silk producer after China, but controls just five per cent of the global silk market. This is because the domestic market snaps up the bulk of the silk thread produced in India.
Karnataka produces an estimated 9,000 tonnes of the country's total production of 14,000 tonnes of mulberry silk. Sericulture is the source of livelihood for over 51,700 families in Magadi, Channapatna, Ramanagaram and Kanakapura, Karnataka's major silk production centres.
A 1999 study conducted by MAYA, an NGO working in Ramanagaram, showed that children work in all segments of the sericulture industry -- in mulberry cultivation, cocoon rearing, winding, doubling, twisting, and re-reeling.
Ninety per cent of the silk-making process takes place in small factories.
At Magadi, the raw material is sourced from places like the silk exchange in Bangalore and reeled and twisted. The threads are then transported to bigger centres for weaving.
"The factories have to maximise their profits within the small framework that they have. Weaving does not happen here, nor is the market here. So they use children as labourers because they can be paid lower wages," says K S Saroja, director, Chiguru (which means 'buds').
The nimble fingers theory that used to justify the employment of children in this industry is a myth, say activists.
This is what happens – when the brittle silk threads are put onto the twisting machines, there is a good change that the threads may snap. When they do, they need to be knotted back together to ensure continuity. If these knots are fine, they cannot be detected once the silk is woven. This is why the factory owners feel those with nimble fingers do a better job of joining the threads.
Suchitra Rao, UNICEF co-ordinator for the project, explains, "Adults do the twisting and knotting just as well, if not better. Children are more playful, easily distracted and prone to wasting the raw material." Yet children are preferred because they are more docile and command lower wages than adults.
Almost all the children working in Karnataka's silk industry are bonded labourers. This happens because their parents turn to loan sharks for money that they need to celebrate a birth, wedding or death in the family. They have no other system of credit available. These loans, taken mostly from factory owners, range from Rs 2,000 to Rs 15,000. In return, their children work in the factories till the loan is repaid.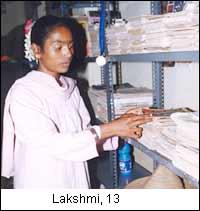 Fifteen-year-old Manju's parents borrowed Rs 20,000 as 'advance' and put him and his three siblings to work at the factory. Twelve-year-old Nagesha's father borrowed Rs 7,000 for which his son had to work at the factory for three years. Thirteen-year-old Lakshmi's parents borrowed Rs 15,000 and, in return, she toiled on the machines for two years.
During their stint in the factories, the children earned anywhere between Rs 50 to Rs 150 a week. Adults earn as much everyday. These factories are little holes in the wall, barely 500 square feet wide; each one has over four machines and, on an average, eight children.
The children stand at the machines all day. A typical workday begins at 6 am and goes on till 8 pm. A 10-minute break for breakfast and half-an-hour for lunch is the extent of the free time they have each day. Sometimes, they even have to work through the night.
"To avoid feeling sleepy, I would wash my face and work. They would also scold us and sometimes beat us if we fell asleep," says 13-year old Srinivasa, who worked in a factory in Hospete, Magadi, where he reeled silk for two years.
Srinivasa was paid Rs 100 a week. He had to work because his parents had borrowed Rs 5,000 from the factory owner who, in his case, happened to be his school teacher or 'head miss'. So, when Srinivasa was not at school, he would be at work.
In the first three months after they begin work at a factory, the children are usually paid no wages; the employers consider this their 'training period'.
"That is just an excuse. The work can be picked up in an hour and, by the end of their first day, the children are fairly proficient. At the most, it takes a week for them to become perfect," says Saroja.
Not that this makes life easier for the children. Working on the 'uri machine,' as the twisting and reeling machines are locally called, is monotonous and tiring.
Standing all day staring at the machines produces eyestrain and giddiness. Yet, if the children slack for a few minutes, the supervisor is ready to lash out at them. Literally.
Ventilation is poor. In most factories, there is only a single window that opens into another room. The door is kept locked so that children don't run away and unwanted visitors don't stumble onto them.
The continuous whirring of the machines produces a loud sound. To make things worse, the factory owners would play music to keep the children awake. Of course, the music had to be louder than the buzz of the machines. The combination resulted in the creation of noise levels that produced temporary deafness in many children.
And, like in the case of Shivakumar, even a moment's distraction can be dangerous.
There are many tales of children being mutilated on these machines. Compensation for these injuries is almost unheard of.
Muniratnamma is case in point. In 1997, Muniratnamma, who was 12, worked in a silk unit in Magadi. In a freak incident, a vessel full of boiling water, required to extract the fibre from the cocoons, fell on her.
Muniratnamma was brutally scarred. She is still undergoing plastic surgery. Yet she has got no compensation from her employer.
"He initially gave her Rs 7,000 and paid some medical bills. That's all. We have filed a case against him in court and are asking for Rs 1 lakh as compensation. We are also asking him to pay the cost of the surgery. The case is still going on," says Saroja.
Other incidents include children who have lost their thumbs and other fingers on the twisting machines. Saroja cites the case of a young girl who had her scalp torn off when her hair got caught in a twisting machine.
There is emotional abuse as well. The stress and the terrible working conditions contribute towards the early onset of puberty in the young girls who work in these factories.
"Sexual abuse by factory owners, supervisors and, at times, even co-workers takes place. I have known a few cases where young girls have ended up as prostitutes in Magadi. They were ostracised by their families after they were abused by their supervisors," says Saroja.
Much of the problem of child labour in Magadi existed because of the government's complicity and complacency.
"The twisting machines were provided by the government earlier and the height of these machines were made to suit children. This made using child labour acceptable," says Rao.
In 1996, the World Bank gave Rs 850 crores for the development of sericulture in Karnataka. The issue on use of child labour in the industry did not come up when the loan was sanctioned.
Part II: Back to school
Part III: The road to a better life
Photo credit: Omprakash

Image: Rahil Shaikh