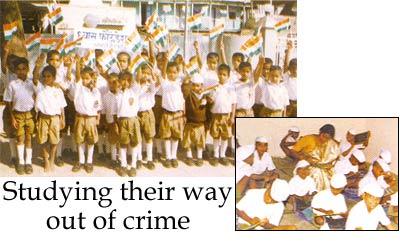 Twenty-five children in Pune are a happy bunch. They are doing what they never expected to do in their lives -- attending school!
City-dwellers habituated to seeing children scurry to school every morning with their heavy satchels may wonder what makes these kids any different.
Well, these are children from the nomadic Pardhi and Kanjarbhat tribes, notorious in Maharashtra for their criminal activities. Their parents are either in jail or on the run. And the school they go to has been established by a police officer.
Schooling for these children means an opportunity to break away from tradition and emerge from the netherworld of crime and abuse.
The administration is keen on helping these tribes break the vicious cycle of poverty and crime, after decades of cracking the whip on them. Realization has dawned, slowly but surely, that some crimes are the result of social problems and require long-term solutions.
One important key to that solution is education, which will allow the children of these tribes to become part of the national mainstream and earn their livelihoods through legitimate means.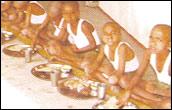 Acting on this logic, the Maharashtra government has permitted the Dhyas Foundation, set up in 2001 by Superintendent of Police (Pune rural) Dr Madhav Sanap with the help of friends and government officials, to run an independent school for these children.
The foundation plans to acquire land for a bigger school in which they can admit more children and provide better hostel, library and sports facilities. The foundation eventually wants to establish an institution for higher education as well.
Dr Sanap says the school will help the children become good citizens and prepare them for the competitive world. "Pardhis and Kanjarbhats have been involved in criminal activities from generations, even before Independence," he explains. "They have no land and no relationship with the local people. Due to this they keep changing places most of the time. Through this school we are planning to change the mindset of these children and give them an alternative."
Sanap estimates there are 2,000 Pardhi and Kanjarbhat families in Pune district. "Most of them used to engage in criminal activities," he says. "But after we started this programme there has been a tremendous fall in the crime rate of the district."
The policeman plans to support these children until they get jobs and settle down in life. For that, he says, the foundation is ready to provide technical and practical training.
Setting up the school was, however, not easy. Sanap and his friends started it by each contributing Rs 10,000 per annum. But soon they realised that they would need more money if they were to make any headway with their experiment. So they decided to form a trust, Dhyas, and approached Nationalist Congress Party president Sharad Pawar, member of Parliament from Baramati constituency in Pune district, for help. Pawar readily obliged Sanap and his associates.
The popularity of the school has grown slowly, and now the district authorities routinely receive requests from Pardhi and Kanjarbhat families to accommodate their children too. But because of limited resources, the school is currently taking in only 25 students every year.
Seeing the work done by Dr Sanap, is it any wonder that many of the children at the school want to become police officers like him?
"My parents are in the forest eking out a livelihood," says Sangram Kale, a student. "I want to help and save them by becoming an IPS [Indian Police Service] officer. For that I want to study more and work hard."
Sarjan Kade and Dattu Kale echo this sentiment, saying they want to become police officers and help the people, especially their own community.
"My parents have been spending their lives moving here and there," says Sarang Pawar. "I want to become an IPS officer like Sanap saheb and help my parents."
Photographs: Vijay Singh | Image: Rahil Shaikh