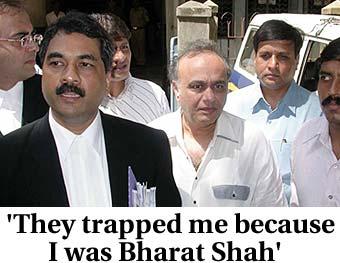 When diamond merchant and film financier Bharat Shah entered the Mumbai sessions court at 11 am on Wednesday to hear Justice A P Bhangale's verdict, he was very apprehensive.
When the judge called on him to ask if he wanted to say anything before he pronounced the verdict, Shah said, "I have suffered a lot in the last three years, My Lord, and so has my family. I have not done anything wrong in my life and I have no connection with the underworld. I oppose them totally."
The judge soon announced that Shah would be sentenced to one year in prison and the punishment would not be applicable to him because he had already spent 14 months in prison from January 8, 2001 to April 3, 2002 until the Supreme Court granted him bail.
After the judgment, a relieved Shah told Chief Correspondent Syed Firdaus Ashraf, "I feel God has given me justice finally."
What do you feel about the entire incident?
I am not very happy but I have no other choice. I think naseeb kharab hoga is liye hua, gaye janam mein kuch kiyan hoga isliye bharna pada yeh janam mein [my fate was such. I must be paying for something I did in my last birth].
I never did anything wrong. Now I am not afraid of anything.

Were you nervous this morning before the verdict?
You never know what would happen. I suffered 15 months and this same court rejected my bail. So I was a little apprehensive.

Do you think God has been just to you?
Bhagwan ke ghar der hai par andher nahi hai [Justice may be delayed but there is always hope in God's home]. This is true otherwise no one would have faith in God.

Is there anyone you miss most on this happy occasion?
I am sad that my brother Vipin Shah passed away before the verdict. He should have seen this day. He had openly criticised the politicians and the police system. He was very sure that I would be let off free. I am sad that he is not around to see this day.

Do you feel vengeful?
What is the point? My family has suffered a lot. I am 60 years old now and I cannot fight anymore. I am not a young man to think like that.

No fight left?
I fought a lot but there was no result.

It must have been a bad shock for your family.
It is a good thing this happened. My sons took care of the business very well in my absence. I am very happy for them. This would have not happened had I been a free man.

Will you return to films in a big way now?
I will start now in big way. I have to recover a lot as the total loss in these three years is more than Rs 1,000 crores.

                                                      The Bharat Shah Case: Complete Coverage
Can you recover those losses?
I have confidence. It was a bad dream which I want to forget now.

If you were not Bharat Shah would you have suffered?
Not at all. They trapped me because I was Bharat Shah.

What lessons have you learnt from politicians these three years?
I should never go close to them. I must just do my work and finish it. Too much proximity with politicians can cause harm.

What about the police?
Top policemen do what politicians tell them. The junior staff is very good and they do their job very sincerely. I learnt this in the last three years. 

Won't you name the politicians who trapped you?
Everybody knows who trapped me. I don't even want to name him. If I see him my blood starts boiling.

I recall on January 8, 2001 you were very confident that you would not be arrested. Were you not surprised to be arrested?
I was confident that I would not be arrested but that faith was shattered. One thing I have realised these years is that people who are in power are really very powerful. They can misuse power to any extent to trap innocent people. But God is more powerful than them, therefore I was let off today.

What are you going to do now that you are a free man?
Nothing. I just want to live in peace. I want to forget this as a bad dream. I feel all those innocents who are trapped like me should be freed.

You always looked nervous in court.
This is not true. The fact is I never liked to come to court. Many criminals come to court and I had to be with them. I had to sit with them and go through this hell for no fault of mine.

Do you feel like a free bird now?
I felt like a free bird when I got bail. Today, I am more free, you can say.

Will you become number one both in the diamond business and film industry again?
I will try because I have lost a lot of money these three years. My business has suffered a lot. Actually, diamonds have been my real business. Film financing was just a small part of my life.

Won't you fight to claim the losses?
From whom do I claim? This is a bankrupt country and bankrupt state. These people cannot pay salaries to policemen. Whom will you claim money from?

Was there support from everyone when you were in jail?
Yes, right from the film industry, construction industry and diamond industry. You come to the Panchratna building [the hub of the diamond trade in Mumbai] now and see the jubilation.

What films are you producing now?
Hum Panchi Ek Dal Ke and Dil Churake Chal Diye. Another is with Ram Gopal Varma, Ek which can be bigger than Devdas in terms of money.
There is another film with Amitabh Bachchan and Karisma Kapoor. I forget the name of that film.

How did you enter films?
My brother was there earlier. I started because I wanted everyone to do well in the film industry and create more jobs. I thought this would be a good earning opportunity for everyone including me. But that backfired.
I gave a break to many new people. My parents were always against films. My brother joined the film industry in the 1970s. He then entered the real estate business and I came here [films].
Today I feel that there are very few people who are good in the film industry. Today, I have learnt that you have to be very careful in life. It is all fate and destiny. If you have to suffer you will suffer.

You won't work with new people?
Not at all. I have learnt that I should not risk financing and working with unknown people. I helped a lot of people earlier. I have done charity worth crores. Everyone knows what I have done in my life for others. I never gave importance to money in life.