Julio F Ribeiro,
one of Mumbai's best known police commissioners, was shocked to know that present city Police Commissioner Ranjit Singh Sharma was interrogated by a Special Investigating Team for 14 hours.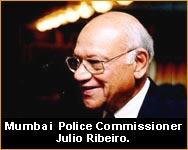 Sharma was interrogated about the multi-billion rupee Telgi stamp paper scam that has rocked the Maharashtra police force.
Both Sharma and former Mumbai Joint Commissioner (Crime) Sridhar Vagal, who has been remanded to judicial custody for alleged complicity in the scam, had served under Ribeiro during the 1980s.
In an interview to Associate Editor and Chief Correspondent Syed Firdaus Ashraf in Mumbai, Ribeiro -- the highly acclaimed director general of police of Punjab during the worst phase of terrorism in the state -- says he is ashamed at the state of the Mumbai police today.
What was your reaction on hearing that Mumbai Police Commissioner R S Sharma was interrogated in the Telgi case by the Special Investigating Team?
I feel ashamed and sad that the police force that was so well respected has come to this situation. The Telgi case has demoralised the Mumbai police force. I know top police officers in the Mumbai police who have no enthusiasm left after this case.
I feel that the people of Bombay should sit up and take notice. In my opinion, the home minister of Maharashtra, Chhagan Bhujbal, has singlehandedly destroyed the force.
I won't say it was good during the Shiv Sena's time. One Mumbai police commissioner used to go and touch (Shiv Sena leader) Bal Thackeray's feet every now and then during his time.

Why has this happened?
This has happened because the political class has manipulated the police and they in turn are not respecting the rule of law. Policemen are only respecting political parties and the home minister's order now.

How were things different in your time?
In our time, we had good political leaders and good officers. They were people of great moral character. You wouldn't find politicians interfering in police officers' jobs. There was corruption to some extent, there was always some corruption during the British time too, but that was a 'need-based' corruption. Today there is 'greed-based' corruption.
When you left the police did you ever expect things would go so badly?
Never. Over a period of time the parties who have come to power have all done these things. Now the situation is very bad.

Why are you targeting Mr Bhujbal in particular?
I have nothing against him. When I meet him I talk to him. I feel he should not have thrown out good people from top police posts. That was a stupid decision. I am now worried about the consequences of his actions. He is supporting wrong people in the police force.

Is the home minister more powerful compared to your time?
There were attempts of political interference in my time but I did not allow it. When I was transferred I said I won't do the job. So you have to stand up to the bullies.
Today in the army, if you tell [Chief of Army Staff] General N C Vij that you promote this brigadier here and there, we will lose all wars. You should appoint a good commissioner and good director general. Politicians must not interfere. There are competent people in the police force and you must let them do their job.
Politicians are not elected to run the police force. Today, politicians want money, power and at the same time want police officers to work for them.

Are you in touch with the police officers of today? If yes, what do they tell you?
Yes, I am in touch with them. Many good officers tell me they want to get out of the police force. Those who don't want to resign go to the Intelligence Bureau, Research and Analysis Wing or Central Bureau of Investigation.
Those who want to be in uniform go to the paramilitary like the Central Reserve Police Force and National Security Guard.

But Mr Bhujbal and the Democratic Front government claim the crime rate in Mumbai has decreased.
I am not sure of these statistics. They are not always correct. If murders have come down I would like to see that figure.

Why did you meet the chief minister?
I want the chief minister of Maharashtra to take the home portfolio under him. If his government is supporting the wrong people I have the right to inform him about these things.
Do you think if social activist Anna Hazare had not filed a public interest litigation in the Telgi case, things would not have moved so fast?
Senior police officers would not have been caught if the high court had not intervened. The Special Investigating Team reports to the home department. Do you think these people can go against the DG [director general of police] and commissioner? That is not possible.

How easy is it for people like Telgi to manipulate policemen?
It is very easy. Money speaks.

There was a controversy a few months ago about the post of Mumbai police commissioner. The media alleged the post was up for sale. Do you believe that?
This is what the policemen too say. They say that every post has a price. First, during the Shiv Sena government, I heard a policemen paid Rs 40 lakhs (Rs 4 million) to be in a higher post. I could not believe it. Now everyone talks about it. Everybody knows how much one has to pay to be in which post. A sub inspector, an inspector... all posts.

Why did this not happen in your time?
We had better political leaders. When I was appointed Babasaheb Bhosale was the chief minister and Shrikant Jichkar was home secretary, a very honest man. He never took anything from anyone.

But do you think the post of Mumbai police commissioner is for sale?
I hope it is not. But I tell you the next time it will not happen. I am not going to elaborate on my plans.

Don't you feel that the Mumbai police should be proud because it was successful in eliminating gangsters?
I don't think anybody should be proud of it. I think encounters take place because the public wants it. Encounters are taking place because the judicial process is so slow in our country. I have given lectures to judges. They should not allow adjournments of cases of hardcore criminals. 

Don't you think the Mumbai police is a good police force?
Yes, it is a good police force but they need a great leader to lead them.

Solving the August 25 twin blasts case was an achievement, wasn't it?
Yes, they have great informants. They take pains to solve the problem. No big criminal goes scot-free. The Mumbai blasts took place in March 1993 and they had solved the case by April. It took six months for the New York police to find Ramzi Yousef's name in the World Trade Centre blast of 1993. He was caught later and then sentenced to death but here the case for the blast accused is going on.

What would you have done if you were Maharashtra's director general of police today?
I would have not gone to Mantralaya (the state secretariat) very often. I would have stated that I would not sign the orders to transfer good officers. But I was fortunate to get good politicians. Today there are vicious people in power.
Now take [Sridhar] Vagal, why was he made joint commissioner? No one knows. I have written a letter to the director general press information in Mantralaya to let me know why he was given that post. I have the right to know this under the Right to Information Act.

Mr R S Sharma worked under you. How was he at that time?
Many of today's police officers worked for me and all of them worked very hard. Even Vagal was under me and they were the best. I am surprised that the same Sharma was called for a 14-hour interrogation. I could have understood if it was for two hours but 14 hours! I am shocked.

As a citizen of this city, what do you think the Mumbai police is not doing?
The duty of the police is to befriend law-abiding citizens. At the moment there are complaints that they are extorting [money from] people. Individually no one approaches the police station. This culture has reached the top level. I feel people should organise themselves in their own areas to solve issues with the police.
Photograph: Jewella C Miranda; Design: Lynette Menezes