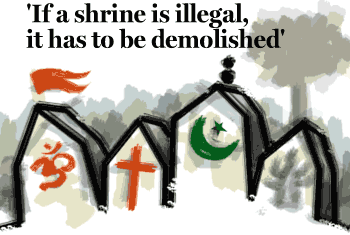 Rarely do people take their cause so seriously but Bhagwanji Raiyani is a different man.

After reading an article in a newspaper that there were more than 800 illegal shrines in Mumbai, he felt these constructions were an obstruction to the public and wanted to do something about them.

So in 2002 he went to the Mumbai High Court asking for their demolition.

One year later, the high court ordered that all illegal shrines -- temples, mosques or churches -- should be demolished.

"I feel that justice has been done. I worked for a cause and that was achieved soon," says Bhagwanji.

A builder by profession, he told Chief Correspondent Syed Firdaus Ashraf that his next crusade would be to put an end to the immersion of idols in the sea during the Ganesh festival. "Nowhere is it written in our religious texts that people should immerse idols in the sea. So why should we follow this ritual and dirty the waters," he argues.

What made you take this step against illegal shrines in Mumbai?
In 1993, if you recall there were maha artis all over Mumbai in roadside temples. The Muslims reciprocated by saying more aazans and praying on the roadside. This created too much disturbance for the common man and caused tension in the city.
In 2000, I read an article in a newspaper that there were 827 illegal shrines in Mumbai. Further, in 2002, I read in a newspaper that an illegal temple was demolished in Khar [suburb in Mumbai]. I thought when a temple could be demolished in Khar, why cannot this happen to all illegal shrines in Mumbai? So, last year in July I filed this petition appealing to demolish all illegal shrines in Mumbai.

But what is the purpose and what have you achieved?
I feel satisfied because I am serving ordinary people. Suppose, I am a Hindu and construct an illegal temple then this will affect other passers-by from different religions. The same is true with other co-religionists, if they construct an illegal mosque or church it creates problems for people from other religions.
One more point is that they create unhygienic conditions around that area. They go on to build communication centres or sometimes people play cards near those places. So to clean all these things from society, I took this step. This is to help the society.

Don't you fear of God?
I don't believe in God and interestingly my name is Bhagwanji (laughs).

Are you an atheist?
I was a semi-atheist earlier but now I am complete atheist. But let me make this clear, I don't object to people believing in God. I respect people's sentiments towards God. I have no problem with their belief.

But why are you an atheist?
I will tell you about one incident in my life. I am from a small village near Rajkot in Gujarat. I belonged to a poor family and one day a dog bit my younger sister who was three years old. I was nine at that time and no one in my family knew what to do? Some villagers advised us to go and see a doctor who would give 14 injections to cure her. But others advised us that we should visit a temple near our village and take the blessings of a godman there.
I went with my father to that man. He gave us some offerings and said that god had blessed my sister. She would be cured soon. But two months later she died. That was the first time I started getting apprehensive about the powers of god and when I grew up I became an atheist.

What about your family, do they ever object to your doings?
My wife and four daughters all oppose my moves. So do my sons-in-law but I carry on with my work for public interest.

What is the Janhit Manch?
This is pro-people organisation. I am the president of this organisation that filed the case in court against illegal shrines.

How many illegal shrines are there in Mumbai?
I think there are 3,000 illegal shrines in Mumbai occupying public and private property.

So what does one need to construct a temple, mosque or a church?
You need to buy land and give a plan to the local municipal corporation. After getting approval only then can you construct a temple. But in Mumbai city everyone is constructing illegal shrines by violating rules and regulations.

What permission do you need from the government to build a roadside shrine?
You will not get any permission from the government because there is no rule that gives you permission to construct shrines on the roads. Forget temples or mosque, you cannot do any construction on the roadside. This comes under the Mumbai Municipal Act of 1888. The municipality has the authority to break any structure that is illegally constructed on the roads.

What is this act of 1965 that says the shrines constructed before that year cannot be demolished? Can you explain?
That is stupid. There is no law like that. In 1965, the Bombay Municipal Corporation was extended beyond Mahim and the suburbs were added to it in 1967. But till that time, local municipal councils like Malad, Goregaon and Andheri were there. And these shrines had not taken permission from them at that time.

Now, I will give you an example. Sitladevi temple is a very old temple of Mumbai and some of the temples are more than 300 years old which is older than BMC. So how can you say they are illegal?
If it is not approved in the BMC plan it is illegal. It is only because these are religious places that the BMC has not taken action against them. But if these temples are out on the road then it is an obstruction to the public, isn't it?

There are also some shrines which are at a corner and don't obstruct anyone, so why demolish them?
If it is illegal it has to be demolished. Moreover, if there is a festival like Diwali then hundreds of people gather around the statue and then it becomes an obstruction.

But aren't you hurting the religious sentiments of the people?
There is no such intention of hurting the sentiments. I am only doing this for a good mission. And, if you see in Marx's language, religion is the opium of masses.

So are you a Marxist?
No, I am not a Marxist but I am just giving you his quote. I am a rationalist.

Did you ever expect the court to give you justice so soon?
I am happy that this decision came soon. But let me tell you, I come to court every Wednesday. Sometimes the hearing comes sometimes it does not. I have filed overall 45 public interest litigations but this has got the maximum attention as action has been taken.

You have also put a writ petition in the court stating that visarjan [immersion] of Lord Ganesh in the sea should be stopped? Why?
That spoils clean water. In that petition I have said that the religious scripture says that there is no bigger sin than polluting clean water. It is nowhere written that we should do a visarjan. So why should we do it?

So far how many illegal shrines have been demolished?
They have demolished 478 illegal shrines. They are doing 25 to 50 demolitions per day. I congratulated the municipal corporation on such a fast job. In my petition I said that they should demolish in it in four months but I think they will complete their job much before that.

Didn't you feel the fear of riots spreading all over Mumbai?
The job of the government is to maintain law and order. If someone is doing illegal work then it has to be stopped, isn't it?

Don't you fear for life?

Never. I am doing this for a good cause.

Design: Dominic Xavier