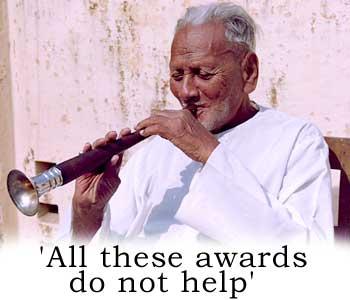 Ustad Bismillah Khan is terribly unhappy.
You don't somehow expect that from the winner of the Padma Shri and Bharat Ratna, and scores of other national honours in between. But the 86-year-old shehnai maestro is visibly upset as he sits by the Ganga on a quiet summer evening.
"My humble plea to both Prime Minister Atal Bihari Vajpayee and [then] President K R Narayanan has gone unheard," he says sadly in Urdu.
Ustadji's troubles are financial. To get over it, he had met Vajpayee and Narayanan with the request that a liquid petroleum gas agency be granted to his grandson.
"I had personally explained to Vajpayeeji how it was becoming increasingly difficult for me to run my huge household of children and grandchildren," he says. "A few months later, when I met President Narayanan in June 2002, I repeated my request. Mr Narayanan assured me my request would be conceded by August 15, but it is going to be a year now and I am yet to hear anything from any officials.
"Isn't it ironical a gas agency can be released on a recommendation from an MP or even a MLA, but a similar request from an artiste like me for none other than my own family member carries no value?"
Ustadji sounds defeated as he says, "I did not wish to speak about all this publicly, but circumstances have compelled me to do so. It is really painful."
T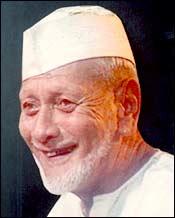 he maestro advocates introducing music in schools. "If music were to be incorporated in the daily curriculum of little children, I can assure you we would be evolving better human beings," he says. "I am sure you cannot tell me one example where music has been the cause of clash between man and man."
For this Muslim musician who is as particular about his namaz as he is about practising playing the shehnai, there is no better place to practise than the banks of the Ganga, the holy river of the Hindus.
"Music transcends all barriers, more so that of religion," he says. "In fact, music is a religion in itself. Far from discriminating between man and man, it binds people together -- and so does the Ganga."
Later, sitting in a rickety wooden chair on the terrace of his three-storied house at the end of a winding by-lane in Varanasi, Ustadji says, "Playing before the Ganga is like praying to God."
Despite the infirmities of age, Ustadji's favourite room is his old living room on the top floor, which opens to a small terrace. This is where he sits on winter mornings, to enjoy the sun.
"I have a family of nearly 70 people," he says. "So there is never a dearth of young boys to carry me upstairs. But it is my two favourite grandsons who take pride in doing this duty, because they know how much I love to do my daily riyaz in this room. "
But for an exquisite carpet -- a gift from an admirer -- the room is humble. The wall, from which paint is peeling, is studded with imposing photographs of the maestro in the company of national and international leaders. In the drawing room downstairs, there are more pictures -- of Ustadji receiving different honours from various Presidents and also the Bharat Ratna, India's highest civilian award.
"All these awards do not help me make ends meet," Ustadji says. "But who cares about that?"
Image photograph: Mansoor Alam
Image: Rahil Shaikh