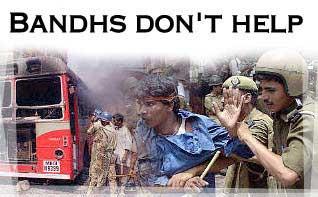 Bandhs and strikes don't work. If anything, they demean the very cause they are supposed to promote.

Will the passengers stranded at the airports, railway and bus stations praise the parties that have organised the bandh?
Will shopkeepers, businessmen and traders who lose their day's earnings down their shutters voluntarily? 
Will those who earn daily wages hail the call?
Will those forced to explain to a mob they have a heart patient in the backseat of their car say a silent prayer for those who died in Ghatkopar?

Having lived in Calcutta in the early 1980s, where a week didn't seem complete without a bandh, yet another bandh to protest the first bandh, followed by a strike by the people against whom the first bandh had been called, I have developed a rather irrational rage against strikes and bandhs.

Perhaps it also had to do with the fact my father, who suffered a heart attack one evening, died because the doctors in the state were on strike. It took over an hour after we reached the hospital for the first medic to attend to my father. That is another story.

But long before that, I always wondered just what purpose these bandhs serve. Who do they benefit?

Will the terrorist who planted the bomb not do it again, knowing the fear his bomb generated will be perpetuated by a bandh, during which the ordinary resident will fear to venture out? Will he not smile knowing his explosion has had a domino effect on the economy of the place?

So what exactly do we gain from these bandhs? Let's take the latest blasts in Ghatkopar. Will anyone affected by the bandh call ever really send up a prayer for the victims? Will the relatives of the victims, and those injured, be happy at their movement being restricted? At not being able to visit the hospital?
No, I am not suggesting we do not protest against these atrocities.

No, I am not even suggesting bandhs be banned. Far from it.

But perhaps we should be a bit more selective about what we are calling the bandh for.

Perhaps we should reserve our bandhs for those special occasions. And most of all, let us call bandhs, but not enforce them. Let us make it voluntary. That would really give everyone an idea of the true relevance of the event.

Perhaps we could devise other, more effective ways to protest, to express our solidarity, our sympathy or our anger.

Instead of calling a strike, perhaps doctors protesting against having to go to rural areas as part of their training could petition the President instead. Wear black armbands. Make it a point to express their views to every patient they treat.

Instead of a strike, perhaps we could launch a blood donation camp for those injured in a terrorist attack. A fund for the victims and their families.

There are a million ways to express our disgust. A bandh is not one of them.