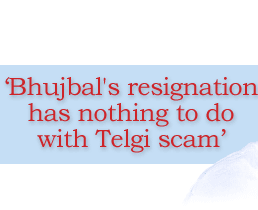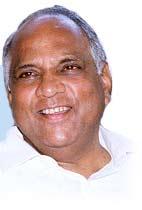 When all expected Chhagan Bhujbal to knuckle down for a long battle, the feisty deputy chief minister of Maharashtra took everyone by surprise by putting in his papers.
Again departing from the script, Bhujbal's resignation did not come because his name was being dragged into the multi-crore fake stamp papers scandal, but on the relatively lightweight subject of an attack on the office of Alpha TV, a Marathi television channel owned by the Zee Network, by activists of his Nationalist Congress Party.
The attack took place at 1300 IST on Tuesday. In less than eight hours NCP chief Sharad Pawar was addressing a hastily convened press conference announcing Bhujbal's resignation and its acceptance.
After the press conference, Pawar spoke exclusively to rediff.com Contributing Correspondent Vijay Singh. Excerpts:
Do you think Bhujbal's resignation will affect the party's image?
I don't take it that way. He resigned because NCP people had attacked the Zee TV office. As home minister of Maharashtra it is his duty to maintain law and order.
But won't his resignation affect the party's image in the assembly elections due next year?
Nothing of the sort. For us freedom of the media is more important. We want the media to enjoy its right of freedom. We want those responsible for the attack on Zee TV to be arrested and punished. Bhujbal's resignation is because of his failure to maintain law and order. But the party's image will not be affected because of this.
So his resignation is not connected with the Telgi scandal?
| | |
| --- | --- |
| | Also Read |
| | |
No, his resignation is not related with the Telgi scam. I had already given him a clean chit on that. It was Bhujbal who took the initiative to set up the Special Investigation Team, which is probing the Telgi scam. His resignation is purely based on the Zee TV attack.
But don't you think this is the wrong time for Bhujbal to resign? The entire opposition has been demanding his head for his alleged links with Telgi.
Who told you he had links with Telgi? For us right or wrong time is not important. Bhujbal is responsible for law and order and [because he has not been able to maintain it] he has given his resignation. People are making baseless allegations against him and have connected him with the Telgi scam without any proof.
Arrested assistant police inspector Dilip Kamath had written a letter to Maharashtra Governor Mohammed Fazal accusing Bhujbal of having directed him to help Telgi...
I don't believe that! First check the authenticity of the letter written to the governor, then make such allegations.