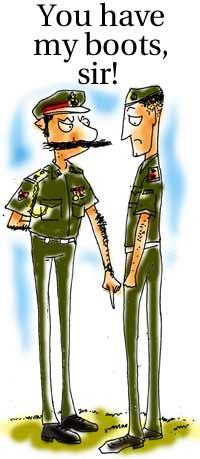 As a young army captain, soon after joining my new regiment, I was asked to attach myself to an engineering regiment for a fortnight.
Actually, our brigade commander had instructed my unit to detail me as liaison officer to a brigadier appointed by the Army Headquarters as consultant to a films division crew shooting a training movie. But my second-in-command, in his hurry to tee-off at the golf course, had missed that bit, merely telling me I would be a guest of the engineers and should learn whatever I could of a certain new equipment they were using.
I rode a grueling convoy the whole day and reached the training camp on a canal bank where the engineers were stationed just before midnight. Only to be told by the adjutant of that unit that I, being the liaison officer, should receive the brigadier arriving by the midnight train. I promptly refused.
At 4 am my orderly woke me up in my tent with two urgent messages. One was from my brigade headquarters clarifying I was indeed the detailed LO; the second was from the brigadier asking me to arrange for a pair of 8' waterproof boots before 6 am and report to him at the training site at 7 am.
I could not find the boots. So I sent him my own brand new pair.
A few minutes before 7 am, I was at the training site and met the other officers. They were worried about the next two weeks under the handlebar-mustachioed brigadier, known to be a stickler for protocol.
To make matters worse, they said he was very annoyed with me for not receiving him at the railway station the previous night.
Just then we heard the sound of an approaching flag car and hurriedly lined up for formal introduction. The brigadier alighted and shook hands with the officers one by one.
As expected he was not in a very good mood. When my turn came, he did not extend his hand but said in a stern voice, "Oh, you are the liaison officer! Why didn't you receive me at the railway station?"


Not satisfied with my explanation and out to catch me, he started scrutinizing my uniform, from cap downwards to shoulder badges, ribbons, belt… He stopped at my shoes.
Then he gave me a stiff look and said, "Youngster, you are wearing civil shoes with uniform and it's an offence. Explain why I should not charge sheet you for improper turnout?"
"I am sorry sir," I said politely, "but you are wearing my boots."
For a moment, there brigadier looked nonplussed. There was pin-drop silence. Then he roared with laughter, slowly to be joined by everyone.
Needless to say, we had a wonderfully jolly time under him after that…
The brigadier retired as major general. His name is B C Kandhuri and he is currently our Union minister for surface transport and highways.
Illustration: Dominic Xavier