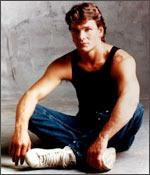 Hollywood star Patrick Swayze [ Images ], 57, lost the battle with cancer.
But he will be remembered, thanks to some of his great films like Dirty Dancing, Ghost and Point Break.
He has an Indian connection as well: He starred in City Of Joy with Om Puri [ Images ] and Shabana Azmi [ Images ].
As the world mourns the actor, we ask you, dear reader, to tell us about how you would like to remember Patrick Swayze. Write in.