I don't need luck, I have love," Harman Baweja says confidently in his debut film, Love Story 2050. Let's dispel the myth right here. Harman, you need neither love nor luck -- you need a blooming miracle! And Love Story 2050 ain't it!
Aside from clichéd dialogue, megabuck sets and an outlandish storyline, director Harry Baweja's launchpad for beta Harman has nothing to offer, besides maybe a remedy for insomniacs. Yes, it is long and boring -- I mean slap yourself in the face, stick a pin in your thigh boring.
Let's cut to the chase. The plot revolves around an NRI bade baap ka beta Karan Malhotra, whose father is busy managing a business empire in Australia and never has the time for him. Deprived of his father's love, 23-year-old Karan spends his time looking at the stars, talking to his dead mother, wrecking the odd sports car to get back at his dad and vacationing with friends -- no, he doesn't have a job.
Enter Sana (Priyanka Chopra), who Karan spies chasing a butterfly in the park one day (do grown women actually do that sort of thing?). Anyhow, all sorts of magical feelings of love and innocence awaken -- boy meets girl, in typical Bollywood style he plays the naughty lovable lad, pursues her and bam, they're joined at the hip forever.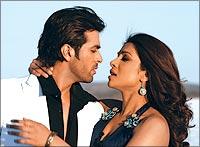 Their days are spent a-wooing and Sana goes into 'Dear Diary' mode (again -- do grown women actually do that sort of thing? And I don't mean keep a journal, I mean start off every entry with 'Dear Diary'), writing all about how cuddly Karan was today. Today, by the way, is sometime in 2008. But that's about to change and boy, will you wish it hadn't!
Karan is introduced to Sana's family and she in turn is introduced to Karan's eccentric Uncle Ya (Dr Yatinder Khanna, played by Boman Irani). Now here comes the news that will change your life forever -- well, maybe not, but it will give you a jolt anyway. You're wondering how Karan and Sana land up in 2050, aren't you? You're counting on the whole reincarnation theory, aren't you? Well, get this -- Uncle Ya is a scientist who left NASA to pursue building a time machine in the Australian countryside!
Everything is hunky dory until butterfly-chasing, kiss-on-the-cheek giving good girl Sana dies unexpectedly. So what happens? No prizes for guessing. Time travel to the future happens, because Karan is sure that his chweety pie has been reborn in the future and looks exactly the same.
Download Love Story 2050 Wallpapers and Ringtones
And here's where things really start to go downhill. Uncle Ya and Karan land up in the year 2050. The set is straight out of I, Robot by the way (and somewhere, Alex Proyas is laughing his head off) -- flying cars, futuristic housing and an android that's a dead ringer for robot Sonny from the Will Smith blockbuster, except that this one has boobies. Yes, the robot is decidedly female and her name is QT, pronounced 'Cutie.'
QT helps Karan find Sana, who has reincarnated as Zeisha, a red-haired world-famous pop star -- it's not heartening to think that 42 years down the line people may still get such bad colouring jobs. She's famous, rich and rather spoiled. And here's where my narrative ends, because I shouldn't give away the rest of the movie, although I can't imagine why anybody would want to watch this clinker after having heard about it so far.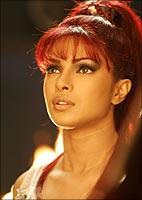 If you still dare to ask what's wrong with Love Story 2050, let me tell you. The story-line is ridiculous and if you argue that the sci-fi genre can get away with it, I'll say it's just plain boring. You feel like it's never going to end and predictability, is a major pitfall, too -- you can tell what's coming next with your eyes closed and believe me; they will start to close at some point.
Harman isn't a half-bad actor but it's enough that he looks and dances (really well, I might add) like Hrithik Roshan -- his doppelganger mannerisms take things too far. Also, his metamorphosis from young boy in love to a lean mean fighting machine in the future is instantaneous and unexpected -- one minute he's eating ice-cream at an amusement park, the next he's crawling up the side of a skyscraper like Spiderman.
In fact, most of the characters are overplayed -- Priyanka's good-girl act, as Sana, is sickening and then her vampish turn as Zeisha is over-the-top. But that looks like it's the director's and scriptwriter's fault -- the clichéd dialogues have reduced even a talent like Boman Irani to a non-actor. His eccentric genius role and Einstein-inspired hair are too exaggerated to entertain.
Sana's mother, played by Archana Puran Singh, is also a stereotyped character -- I think we're about done with the colourful, talkative Punjabi mamma bit. And finally, the villain that awaits Karan and his Uncle Ya in the future is a sad take on Star Wars' iconic Darth Vader. The cloak, the mask, the mannerisms and the whole evil scientist act just don't click.
Any plus points, you ask? One. The special effects. Yes, they're good -- world-class, in fact, which makes it all the more regrettable, that so much money was wasted on this flick.
Just a word of advice, Harry, sir. Next time around, don't try to concoct a love story in a sci-fi setting. Watching Love Story 2050 is like watching the famous balcony scene from Romeo and Juliet performed on the Starship Enterprise.
Rediff Rating: