With two big hits Akash and Arrasu, as well as Meravanige to his credit, Mahesh Babu is one of the most successful young directors in the Kannada film industry.
Kollegal-born Mahesh Babu started off as an assistant director and worked as an associate director and co-director for more than 15 films. Impressed with his work in films like Yuvaraja and Appu, Kannada actor Shivaraj Kumar asked him to direct his brother Puneet Raj Kumar's film Akash. Akash became a silver jubilee hit. Mahesh followed it up with Arrasu, which also ran for 100 days.
After his next film Meravanige, Mahesh Babu signed on Paramesh Paanwala, with Shivaraj Kumar. The film will be out this week.
Mahesh Babu gives R G Vijayasarathy the details.
What can we look forward to in Paramesha Paanwala?
It may sound clichéd if I say that Paramesha Paanwala will be different from my other films. But if you look at my films, you will see that each of them had different pattern of narration and yet looked interesting because of the story's novelty. I don't say Paramesha Paanwala has fresh elements. But one thing is sure -- the narration of this film will be of different from Shivaraj Kumar's previous films.
Shivaraj Kumar's characterisation will be the major attraction. He plays a paanseller, who gives sweet paan to good people, but can be equally hostile to ill-mannered people. I have given comical shades to the paanwala's character.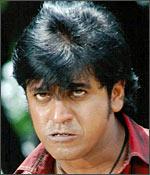 This is not an unusual story for a mass hero.
I told you the story may not be fresh but I am sure the film will be interesting because of its twists and turns. It has 100 percent entertainment. Paramesha Paanwala will be a family-oriented film with sentiment, fun and action. There will be the additional bonus in the form of crisp dialogues. Janardhana Maharshi has written the story.
We have shot two songs in Switzerland. Survin Chawla's songs with Shivanna sir are the best parts of the film. And Hari Krishna's music has already rocked in this film.
I would like to add that when I was making Arrasu, many people asked me whether I was making a full-length action film. With such a powerful title, no one believed that I can make a different kind of film.
Even while I was directing Meravanige, there was a feeling that I was doing a youthful romantic film in tune with the present trend. All of Prajwal's earlier films are romantic. But I preferred to try something different like an adventure film with Prajwal and Andrita Ray.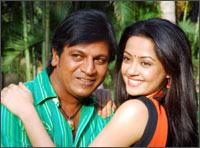 You had worked with Shivaraj Kumar as an assistant director many times. Why did it take you so long to direct him?
Well, I am a director courtesy Shivaraj Kumar. He was impressed with my work in Yuvaraja and Appu, both directed by Puri Jagannadh. It was on Shivanna sir's suggestion that I was asked to direct Puneet Raj Kumar's Akash. Thankfully, it was a silver jubilee hit. As he was busy working in other films, I was able to get him only for Paramesha Paanwala. I am honoured to work with him. I am his huge fan.
You have directed Puneet Raj Kumar in two films. How do you describe your experience of working with him?
Puneet is a great performer. He takes a lot of interest in supervising everything. He scouted the locations for Arrasu. His laptop is like an encyclopedia. His technical knowledge is certainly helpful on the sets. He is not afraid to take risks in action sequences. The way he rehearses is exemplary. It is because of his hard work and dedication that he has reached the top position so early. I would like to work him again and again. He is a great human being.
What next?
I will be working with Darshan in [producer] Balareddy's Abhay. It will be launched on December 5. I am a great fan of Darshan and want to make use of his talent in comedy.