Many remember her for the famous song Bugdi mazi saandli ga jata sataryala. But Jayshree Gadkar was much more than that. She was not only a versatile and accomplished actress but the face of Marathi cinema in its golden era.
In 1955, she made her debut in V Shanataram's Janak Janak Payal Baje as a group dancer behind the heroine, Sandhya. After seeing photographs of her performance, director Dinkar Patil gave her a break in a dance in Disat Tasa Nasa, with Raja Gosavi. This paved her way into mainstream Marathi cinema.
Later, both Raja Gosavi and Jayshree gave many hits as a pair, like Aaliya Bhogasi [her first film], Utavla Navara, Yala Jeevan Aise Nav, Awaghachi Sansar and Paishacha Paus. Gath Padli Thakathaka was her first major role. Jayashree got a lot of success as a heroine in movies based on tamasha and lavni, the trend at the time.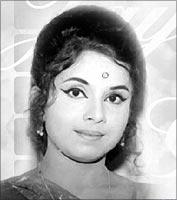 Her film Saangtye (1959) ran for 132 weeks in a theater. Her terrific dance performance in Bugdi mazi saandli ga became a craze among Marathi viewers. She was paired with the most popular heroes of the time like Suryakant (Pancharati, Rangpanchmi, Vaijayanta) and Arun Sarnike (Sawal Maza Aika, Ek Gav baara Bhangadi, Gangaulan).
Manini was a turning point in her career. She was paired with Chandrakant Gokhle. She went on to act with his son Vikram Gokhle too, in films like Utavla Navra and Subhdra Haran.
Gadkar also acted in historical movies like Mohityaanchi Manjula and Shahir Parshuram. She won many accolades and awards at the national and state level. She was also felicitated with the state government's V Shantaram Purskar, Gadima Purskar, P Savlaram Purskar and many more. She married co-star Bal Dhuri in 1975, and directed two films, Sasar Maher and Ashi Asavi Saasu.
Her autobiography Ashi Mi Jayshree mirrors her life well.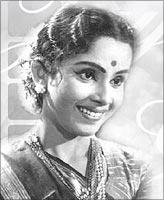 The last time I met her was at a function last year, where she was the chief guest. Bal Dhuri was starring in his film, He Bandh Premache, produced by Chandrakant Mane. I remember her words that time, 'Sarwani premane rahave ani prem dyawe-ghywe. Mazya chaahtyanchych premamule mi aaj ithwar aale aahe. Mazywar prem karnarya prekshkanchi mi aabhare aahe. Aasech prem rahu de. Aata  Mi jari thakle aasle tari marathi chitrpatansaathi mala aajun kaahi karayche aahe. Tumhihi marathi cinemavar aasech prem karat raha. [I have come to this stage with the blessings of Marathi moviegoers and my fans. Let us keep this love and affection forever for me and our Marathi cinema]'
With her sad demise, we have lost a great actress. A chapter in Marathi cinema has closed forever.