Anurag Kashyap is a very busy man. The schedule of his new film No Smoking has left him with little time for interviews. We managed to buttonhole him into an interview just before he was to take a flight to Rome, where his film was scheduled to be screened.
When I reached his home, I was surprised to see a large collection of footwear at the door. I was wondering just how many people he was entertaining at home, when Anurag explained that he had a shoe fetish.
The director insisted that we record the interview, as he has been misquoted often. He later said this was his best interview ever. Read on:
How did Kumar Mangat and Vishal Bhardwaj come up with the idea of producing No Smoking even before Paanch and Black Friday had released?

Vishal Bhardwaj had scored the music for Paanch. He had seen Black Friday as well. He knows me since the days of Satya (which Anurag had scripted) and has a lot of faith in me.
Vishal told me that he wanted to make a film with me. I narrated the script of No Smoking to him. John Abraham was already on board then. So the project clicked.

John told me that before you narrated No Smoking to him, you narrated a bad script Lapata. Why so?

I was desperate to make a film. I was ready to make anything! That's why I approached actors through SMSes only. John replied back, so I did not want to throw away the chance. I thought of narrating No Smoking but I thought he would not understand the script. So I thought I would narrate another script.

But John said he expected something more intelligent from me. I was thrilled. So I told him about No Smoking. He loved it. I had underestimated him.

But if you were desperate to make anything, how would you make your type of movies?

Even when I was desperate, I met only those producers who would understand my style of filmmaking. Everybody liked the story. In fact, recently in an interview, Shah Rukh Khan called it a fantastic but dark script.

Isn't smoking banned on big screen?

No. Nobody does his or her research. Nobody has found out whether smoking is banned or not. Somebody wants a ban on smoking onscreen and the Supreme Court has put a stay on it. My film is about a smoker. How can I make the film with the character not smoking? Smoking is shown only in the first 20 minutes of the film.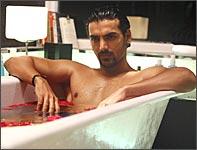 John is not one of the best actors in the industry. Yet, you gave him freedom to improvise on the sets. What is your contribution towards the actor? How much of your script actually comes to use?

A director sets parameters within a given space. You just let the character be. Ultimately, I create the situation. In that situation, the character has to react naturally.
But we don't get to see such work in Bollywood.

Which is why we make sub-standard movies! There are filmmakers who don't even write the script. They directly go on the sets with their actors and improvise. Ram Gopal Varma and Mani Ratnam improvise scenes… Our film journalists do not know the process of filmmaking.

I just acted in a film with (director) Tigmanshu Dhulia. There was not even a single written line; we kept improvising. We put ourselves in that situation; we became the characters. So it's natural. That's the process of filmmaking.

Does Ayesha Takia have a double role in No Smoking? Apparently, she was not comfortable with some scenes?

Yes, Ayesha plays John's wife and secretary. There were some strange, funny lovemaking scenes between her and John. She did not want to be intimate on screen.

Was she also upset with her outfits?

She was upset with the way the secretary dressed. This is what I call improvisation. I have a situation where my actress is uncomfortable. But I still have to shoot it, and I will not compromise. So whatever change I can do, I will, or else I will 'cheat' with the camera.

The entire chase sequence in Black Friday was improvisation. It was not written on paper. We shot it spontaneously, and look at the impact. Most of our filmmakers go by the book.

Why didn't you take an actress who would agree to do what you wanted instead?

I want an actress, not a face. Ayesha is an actress and I think she has the face too. I did go to people who I thought could do the role, but they refused because the role wasn't big.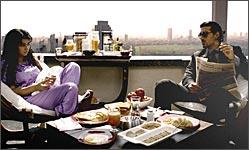 Do you think that John took up this role because he was upset with the kind of work he was doing like Baabul and Salaam-E-Ishq?

I did not know John earlier. The John I met was trying to rediscover himself. Initially, he signed movies that people around him from the industry asked him to do. He was new; he thought as an actor, he is supposed to do all that. So he signed films that his friends asked him to sign. But there came a time when he sat down with himself and realised that he was going the wrong way.
That is when he decided to change. That may have happened after Deepa Mehta's Water and Kabir Khan's Kabul Express. That is why he did Taxi No 9211, No Smoking, Goal and Aashayen.

Black Friday did not do well at the box office. And No Smoking seems just as unconventional.

Black Friday made enough money for the distributors. On DVD, it is still on top of the charts. Black Friday gave me more than what Dhamaal gave (director) Indra Kumar. I got more from Black Friday than what others got from their hit films. Even if the film didn't do well, I got more respect, and more actors wanting to work with me.
Your movies are very dark.

That is called the noir kind of cinema. It is a term coined by French critics for dark cinema that comes out of depression -- where everything is little heightened, darker, shadowy... It has alleys, a femme fatale...
Will you ever make happy films?

I'm doing it already. No Smoking is a happy kind of film. After that, my animation film, Hanuman Returns, will also be a happy film for children.
But both you and John said No Smoking was bizarre.

Look up the word 'bizarre' in the dictionary. It doesn't mean dark. Was Eternal Sunshine Of The Spotless Mind a dark film? It was bizarre. No dictionary in the world says bizarre means dark or vice versa. This is the problem with Indians; they come with fixed notions. What is the definition of dark? Tell me!

Why are you getting angry?

I am not angry with you. My anger is directed at the entire media. No journalist in India watches cinema, unlike film journalists abroad. Go to a film festival, you see so many journalists there.

Indian journalists don't watch cinema, they only cover gossip. That is why nobody has a clue about cinema. They don't even know what questions to ask. They ask the same questions: 'What is John doing? What is Ayesha doing?'

The problem with this country is its media that covers cinema. Our cinema is immature. Our media is very immature. Our critics are worse than our filmmakers. Our film journalism is the worst in the world. Barring a few critics, nobody has a clue what they are talking about.

I know few good people like Karan Balli, who is a film fanatic to the point that he can give you a lot of trivia. But a man like him won't be interested in writing. And the people who write are just chasing gossip -- one sensational headline to another.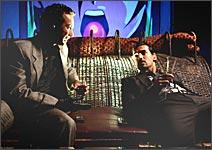 Coming back to your film, is there a scene where John is nude?

You have to look for it. You can see John's bottom in the film. On the surface, you can't see it. But you might just see its reflection.

Tell us about Ranvir Shorey's character.

Ranvir Shorey plays Abbas Tyerwalla, the writer of Main Hoon Naa, Maqbool, Munnabhai MBBS and Salaam Namaste. Abbas was supposed to do it but when he couldn't, I based the character on him.

Do you think Eklavya is the right choice as India's entry for the Oscars?

Yes. Among the films that were selected, it was. I feel there are a lot of films from down South that are good, but I believe the prints are not even sent. I can't say Black Friday should have gone because we did not send the print. I can't blame anyone except myself.

You're doing a film called Dev D. Tell us about it.

It is a modern day take on Devdas. It will start next year.

Isn't Sudhir Mishra is doing a Devdas too?

That's a different Devdas. There are takes on Devdas; none of us are remaking Devdas.

That sounds like the time when filmmakers were making five movies on Bhagat Singh some years ago.

Don't judge before watching it. Everyone was making Bhagat Singh then. Here we have a take on Devdas. We both read our scripts to each other and they are completely different. People tend to make assumptions before the movie releases. First, watch the movie and then decide whether we are fools or not!
What about Gulal?

I will complete Gulal before Dev D. I made 80 percent of the film. Because of lack of funds, it stopped. Now I have got money, so I will complete it.
You're starting a company...

Yes, it will be called Proper Ganja films.