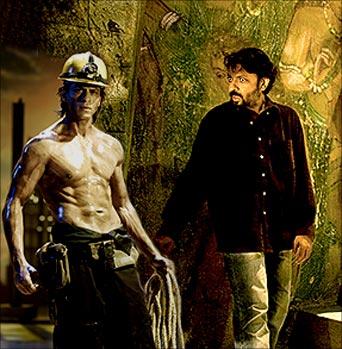 Looks like the Diwali fireworks have already begun!
At the box office, that is.
The big two releases of the year -- Saawariya and Om Shanti Om are fighting to outdo each other, and they are not taking any prisoners either.
Last week, Saawariya tied up with the Future Group for a special range of Saawariya merchandise, which include beauty products and bed linen.
In reaction, Shah Rukh Khan led the entire OSO team down the ramp to promote the branding of the film with another retail giant, Shoppers Stop.
It so happens that Shoppers Stop and Future Group are rivals in retail space.
The teams have not spared television either. While the OSO stars were busy promoting the film at the Zee SaReGaMaPa Challenge recently, the stars of Saawariya did the same on the rival channel Star for Voice of India hosted by Shaan.
And the fight seems no sign of flagging. Shah Rukh, the producer of OSO, is leaving no stone unturned and neither is Saawriya's producer, Sony Pictures.
Who will win the final race at the box office? We'll see on November 9, when both the films release.