At a local music store, most of the shelves under the 'New releases' category are occupied by CDs and cassettes of Anurag Basu's new offering,
Metro
.
I go on to pick my copy, and while making the payment, the cashier guy curiously asks, 'Have you heard the songs of
Metro
?' I nod in negative. He continues, 'The songs are awesome. They are very, very, soothing.'
The man at the music shop, as I later discover, was quite right.
Metro
with its eclectic cast and meticulously put together score by Pritam (and friends or Band Metro as the CD inlay refers to it) is pretty darn impressive.
Starring Kay Kay Menon, Shilpa Shetty, Konkana Sen Sharma, Shiney Ahuja, Irrfan Khan, Sharman Joshi and Kangana Ranaut, the film is scheduled for a May release.
Band Metro sums up the presence of Pritam (music production, compositions, guitar, back-up vocals), James (vocals, guitar), Soham (vocals), Suhail (vocals), Niladri (sitar), Kalyan Baruah (guitar/blues harp), Jim Satya (keyboards), Titu (drums/percussion) and Eric Pillai (engineer, mixing, mastering).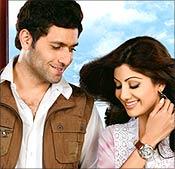 The soundtrack takes off on a soulful and free spirited note with
In dino
. It's inherent feel-good quality and sunny tones coupled with Soham's heartfelt singing set the bar for the album. For a change, the remix, by Bunty Rajput, with its gingery overtones, is noteworthy too. 
KK's high strung rendition of
Alvida
is stirring and sensational. The anger and anguish of its context is so explicitly conveyed by both the singer and the dramatic play of guitar and sitar. Powerful stuff, this -- the more you hear it, the more you want to. As if on a cue, the wish comes true in the form of a vocally volatile James reprising the same.
O meri Jaan
is an attractively penned (by Sandeep Srivastava) melody featuring a decidedly mellow KK spew gooey sentiments with delectable flair. Though most of the track takes a complacent route, it goes in for a high-pitched climax. Suhail's interpretation of
O meri Jaan
is as potent.
James's shrugging cynicism towards relationships in
Rishtey
bears resemblance to the agony of Gaman's
Seene mein jalan
and straightforwardness of George Michael's
Praying for time
. The tune is somewhat abstract and requires some patience, from the listener before he gets a hang of it. Deejays Nikhil Chinapa and Naved tunnel-effect remix of
Rishtey
is high on appeal and stamina.
The unplugged version by Suhail of
Baatein kuch ankahee si
opens like
Chal chalein
of
Woh Lamhe
, thanks to Kalyan Baruah's inputs with Blues harp. You can't miss how much the first strain bears amazing likeness to
Qayamat Se Qayamat Tak's Magar yeh to koi na jaane ke meri manzil hai kahan
bit from the song,
Papa kehte hain
. Another version of the vibrant ditty, also featuring Adnan Sami, is better nuanced and definitive.
Band Metro goes all out in
Kar salaam
with its slogan shout-like intensity and infinite respect for life and its struggles.
Metro's
soundtrack is throbbing, refreshing and uncompromising. Let's just hope the movie is as promising as it looks.  
Rediff Rating
: