Wondering about that certain something that caught your eye besides Aki Narula's colourful clothes in Jhoom Barabar Jhoom? Thought Abhishek Bachchan was the reason behind that special glow on Aishwarya Rai's face in Umrao Jaan?
No, it was, in fact, cinematographer Ayananka Bose.
Bose earlier assisted the brilliant cinematographer Ravi K Chandran in films like Dil Chahta Hai, Koi... Mil Gaya and Black, before he became independent.
He tells Komal Mehta how he came to be associated with the Yash Raj banner and more.
How did you come to associate with Yash Raj?
Pure luck! I was at the right place at the right time. That said, two people are responsible for my good fortune -- (director) Shaad Ali, who, at some level, took the risk of taking me when I was only two films old, and Ravi K Chandran. He had done Fanaa with Yash Raj, so that helped. It helps when you have worked under someone reputable and when that someone recommends your name.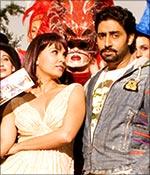 Tell us something about Jhoom Barabar Jhoom.
It's a very simple Shaad Ali film. The story is from the pages of Shaad's life, when he was at an airport waiting for his girlfriend. Go watch the movie and have fun. The ending will surprise you.
What was your preparation for Jhoom?
Shaad wanted to make the film like a musical. He had a very basic idea of what kind of imagery he wanted, which was something very wild and trippy. The good thing is that he didn't want it to be like Chicago or some other musical. I can't copy references; I do what I want to do at that point of time. Shaad never once questioned me on my work and trusted my judgement. But today if you ask me to re-create it, I don't know if I'll be able to do it again.
What was the experience of working on a period film like Umrao Jaan?
J Psaab (Dutta, director) gave me complete freedom and I had great fun working for that movie. Everything was so spontaneous. J Psaab used to unfold the scene on location and as I'm never prepared for a scene beforehand, it was fine by me.
The most important part of cinematography is consistency. Somewhere you catch a thread and try to maintain that throughout the film.
JPsaab is brilliant when it comes to framing (the way a shot is set-up) and I've learnt the art from him.
The rumour that J Psaab is a very difficult person to work is untrue. He loves to have fun and pampers his artists. Being on his sets is like being on a holiday. You stay at the best of places, eat the best food and work at your own pace.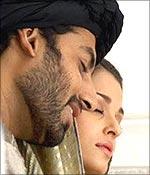 Tell us something about cinematography.
I love playing with light and colours and believe in making people look beautiful. That is my way of cinematography.
It does not matter if the frame is as long as the artist looks nice. I love making women look beautiful. I simply cannot make them look ugly. So Umrao Jaan was the perfect platform for me. I had to make Ash look good which was a piece of cake since she's already gorgeous.
I've also been fortunate to observe a lot of big directors at work. I think I keep observing life and that is what comes out later in my frames.
Any cinematographers' work you like?
I've been on the sets and seen other people's work. I just love to watch them shoot. I saw Anil Mehta create wonderful work for Aaja Nachle.
So what are your plans for the future?
I'm taking life as it comes. I'm just starting and am trying not to make many mistakes. What I'm very happy about is when recently Ravi sir called me for his clash work (he didn't have dates so I stepped in).
I've worked on Saawariya (Sanjay Leela Bhansali) and am currently working on Vijay Krishna Acharya's Tashan.