Numerologist
Niraj Mancchanda
had predicted long before the release of Yash Raj Films'
Ta Ra Rum Pum
and
Jhoom Barabar Jhoom
that they would not open well at the box office.
Ta Ra Rum Pum totals number 38 and Jhoom Barabar Jhoom totals number 59, and both numbers do not vibrate with Yash Raj Films founder Yash Chopra and his son Aditya Chopra, the studio's creative mastermind.
He adds that even though Yash Chopra is a number nine and Aditya Chopra is a number three; and both numbers vibrate with the year 2007, this year will not be good for Yash Raj Films.
He predicts the fate for the other YRF releases this year:
Yash Raj Films totals number 33, which is Laxmi's number and the number vibrates with both Yash and Aditya Chopra. But two planets, the retrogate Jupiter and the shifting of Saturn to another house will not only damage their banner's goodwill but will also give them monetary losses.
Since film distribution is my family business I know what kind of business Ta Ra Rum Pum and Jhoom Barabar Jhoom has done in India.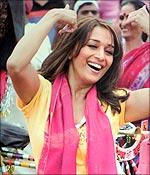 Shimit Amin's Chak De India, which stars Shah Rukh Khan, and will release in August -- totals number 32. It will do below expectations as well. The business will be on the basis of holidays only, and will be nothing great.
Pradeep Sarkar's Laaga Chunari Mein Daag is scheduled to release in October. It totals number 65. This will fare below average; and will not open to full houses.
Madhuri Dixit's comeback film, Aaja Nachle totals number 26. It will be a box office disaster, which will shock everyone.
Next year's Tashan will be a hit because of its lead actor, Akshay Kumar.