Films, which have not done that well in India, seem to be doing good business overseas. Salaam-E-Ishq opened to a lukewarm response in India, but it has dethroned Guru over the weekend grossing nearly $1 million in 80 theaters across North America.
The movie, directed by Nikhil Advani, also surpassed the opening North American weekend gross of his first film, Kal Ho Naa Ho, starring Shah Rukh Khan, Saif Ali Khan and Preity Zinta. The tearjerker hit took $760,000 in November 2003 and was a bigger hit in the United Kingdom, given SRK's popularity there.
Salman Khan's Salaam-E-Ishq did not do as well in the United Kingdom, earning a decent but unspectacular $550,000 in 49 theatres, almost equalling the first weekend collections of Baabul, another Salman starrer, which was also a hit there. 
The grand opening of Salaam-E-Ishq has pushed Guru down the box-office, earning about $200,000 in its third weekend. Though the film lost nearly 62 per cent of its box-office clout, it still took its cumulated gross to $1.8 million. It has a good chance of reaching the $2 million landmark In the United Kingdom, where the film has grossed nearly $850,000.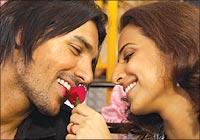 According to tracking agencies such as Box-Office Mojo, the multi-starrer earned $11,034 per screen while the Italian import Mafiosi, which was showing on just three theatres, led the per screen average with $11,117.
Per screen average, of course does not mean that either of these films would expand into thousands, let alone hundreds, of theaters. It is always possible for a film showing in a few theaters to have bigger average than the box-office hit of the week that is showing on more than 3000 screens.
For instance, last weekend's No 1 film Epic Movie, a comedy was made for about $20 million but had a weekend average of $6,600. However, it's weekend gross was $18 million which makes it quite possible for the movie to end its run with over $60 million.
Salaam-E-Ishq could also have a very profitable run, and could make about $2.5 million.