British director Paul Greengrass -- who on one hand makes thrillers such as
The Bourne Supremacy
, and on the other creates chilling and unhysterical 9/11 drama
United 93
-- has announced a film based on Rajiv Chandrasekaran's acclaimed book,
Imperial Life in the Emerald City, Inside Iraq's Green Zone.
Chandrasekaran's book, based on his own experiences as Baghdad bureau chief of The Washington Post, centers on the chaotic attempts by Americans to set up a provisional government in Iraq, operating from one of the most prized areas once dominated by Saddam Hussein.
Published in America by Knopf four months ago, it received rave reviews and was one of the 10 notable books The New York Times Book Review section chooses each week. It was also shortlisted for the National Book Award.
The Green Zone is a walled-off American enclave of plush villas, unending greenery and sparkling swimming pools that became  headquarters for the American occupation. There the Halliburton-run (and Muslim-staffed) cafeteria served pork at every meal and American pornographic DVDs were gleefully circulated.
It is not only the lifestyle inside the Green Zone that comes for sharp criticism but also the mindless efforts by the Americans to reduce tension and crime in Baghdad.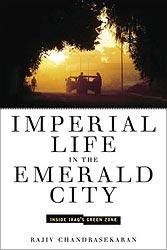 Chandrasekaran, who explores at length the arrogance with which the Americans treated their Iraqi advisers, also details former New York police commissioner Bernard Kerik's 'ludicrous attempt to train the Iraqi police.' And then there are disturbing stories including that of  a 24-year-old who had never worked in finance put in charge of reestablishing Baghdad's stock exchange, and an ill-trained contractor paid millions to guard a closed airport.
Critics pointed out that while the book was critical of blinkered American idealism, Chandrasekaran also gave credit to Americans and British trying to cut through red tape and institute genuine reforms.
'He also has a sharp eye for details, from casual sex in abandoned offices to stray cats adopted by staffers,' wrote Publishers Weekly, 'which enable both advocates and critics of the occupation to understand the emotional toll of its circus-like atmosphere.'
Greengrass, about to complete the $100 million The Bourne Ultimatum featuring Matt Damon, could start working on Imperial Life by the third quarter of this year. Trade publication Variety which broke the news, quoted the filmmaker as saying the invasion of Iraq was 'the most calamitous decision of our generation.'
The subject seems appropriate for the director. Four years ago, his low-budget film Bloody Sunday, a dramatisation of the Irish civil rights protest march in Northern Ireland and subsequent massacre by British troops in 1972, became an art-house hit in the United Kingdom, Ireland and North America. It also had a good run in Europe after winning the top prize at the Berlin Film Festival. And United 93, which was made for about $25 million, received some of the best reviews last year and grossed an impressive $70 million worldwide.