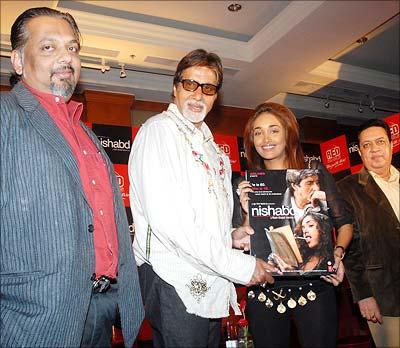 Filmi events never start on time. Never ever. And while we might be used to consistently cool our heels, a radio station tie-up made the wait for the Nishabd music release on February 17 decidedly unbearable.
Ads in terrible taste played loudly on the screens, while women in red dresses (to go with the name of the radio station) stood around like oversized award statuettes, doing nothing. A disaster, particularly considering it was Saturday evening.
Thank the lord, then, for Amitabh Bachchan. Wearing black knee-high leather boots, a funky kurta and shades, he strolled in like a rockstar and assuaged the room's temper instantly.
Ram Gopal Varma's new film casts him as a 60-year-old in love with his daughter's teenage friend, and striking debutante Jiah Khan (in the picture) who plays the role was content following in a relatively meeker flashbulb reception.
Nishabd, out on March 2, is a one-song film. And what a song that is. Rozaana se, composed by Vishal Bhardwaj and sung by Bachchan himself, is a rock ballad with tremendous soul. But as is customary on these occasions, not much was spoken about the music, save for Vishal crediting the track to Ramu, and vice versa.
Bachchan, who described his funky look as "something Gabbar would wear," did most of the talking, while a visibly amused Jiah laughed off most queries and Ramu couldn't hide his irritation at silly questions, directing most people towards the release date instead. "Watch it and decide."
And so it was yet another Big B night, the 64-year-old megastar snappily lacing his answers with dry, sarcastic wit and self-deprecatory humour. A massive task considering the man who is to next play Gabbar Singh was asked if this romantic role of his would have a negative impact on the country. And then, by a very brave journo indeed, about senility and if this role depicts the same condition.
"Do please say exactly what you are trying to, madam," Bachchan said to a hall now in splits. "And as for senility, all I can say is that even if the mind does turn senile, that doesn't signify the end of desire."
Text: Raja Sen