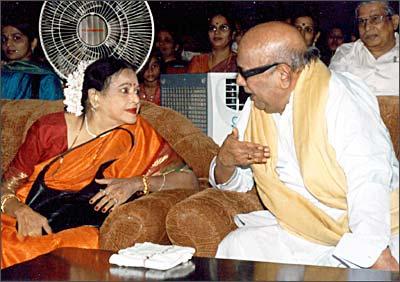 After giving us a wide range of classics, legendary actress Padmini breathed her last in the early hours of Monday.
Though she was 74 and suffered from a host of ailments, the actress remained active till the end. In fact, the last public function she attended was as recent as Saturday night at Chennai's Nehru Indoor Stadium, where the Tamil film industry was felicitating Tamil Nadu Chief Minister M Karunanidhi.
As the stadium was packed, Padmini had to squeeze through the main entrance with great discomfort. She alone was allowed entry, and two relatives accompanying her had to wait outside.
She sat next to Chief Minister Karunanidhi and exchanged polite conversation -- the chief minister himself is a veteran of the film industry. But soon afterwards, she fainted and had to be carried out of the auditorium. She was taken to Apollo Hospital and within 24 hours, she passed away due to a heart attack.
Also Read:
Post your tribute
Actress Padmini passes away
Dance was Padmini's passion, not films
Earlier: Padmini to return to India