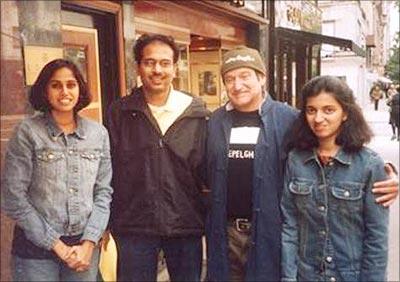 Reader
Salil Kodkani
had quite a memorable visit to New York.
Salil was visiting the city with his family and decided to stop for a quick Sunday brunch. Suddenly they were pleasantly surprised by the sight of Robin Williams walking in to pick up his breakfast!
They asked for an autograph, but the Hollywood star of hits like Mrs Doubtfire amazed them by suggesting that they could go outside and take snaps, 'if they were up for it!' Salil assures us that Williams was very modest, and told him he had flown in from California to catch a baseball game.
If you encounter/meet/see film or television personalities and photograph them, please scan the photographs and mail the pictures to us. We will feature the best images right here on Rediff Movies.
Also check out: Sanjay Dutt | Dancing with Sushmita | Priyanka at Oxford | Mammooty | Saif, Rani's new film | Amitabh in New York | SRK, Saif & Akshay | Aamir | Ajay | John | Abhishek | Shah Rukh Khan | Bipasha | Amitabh, Rani | Yash Chopra | Ram Gopal Varma