If someone were to put a gun to
Sonu Nigam
's head and ask him to choose just one thing what would the singer, actor, disc jockey and concert star do?
"It is a tough question," Nigam says. After a pause, he answers, "I think I will do the concerts and forget my pop albums, my movie songs and my interest in acting."
"Concerts never fail to give me the biggest high."
He has sung enough movie songs in the past six years, he feels, to fill over a dozen concerts each month.
He hastens to add that he is not choosing concerts over pop albums and movie songs because he is travelling across North America performing in nearly a dozen cities now.
"Any artist who is performing before a large, live audience knows the thrill is incomparable," says the 32-year-old singer whose recent hits include the numbers from successful films Kabhi Alvida Naa Kehna, Krrish (Koi Tumsa Nahin), Fanaa (Mere Haath Mein) and Bunty Aur Babli (Chup Chup Ke).
"Performing in a concert takes me to a very different world. You feel like a dictator when you perform at a concert," he says chuckling. "For you have to control thousands of people. In India, I have performed before over 80,000 people."
"You have to be a dictator, you have to be a performer," he continues, "and you have to be a hypnotist, and at the same you are mesmerising the audience, you should also be very, very humble."
"The listeners won't care how well your recorded song in Kal Ho Naa Ho or Fanaa sounded. What the listener wants you to sound as fresh and as melodious you can be. In fact, they expect you to sound better than in a recording studio."
The title song from Kal Ho Naa Ho fetched him numerous awards, including the National Award. "People have begun taking me more seriously than ever," he says. I tell him that Manna Dey had predicted five years ago that he expected, among all the newer singers, that Sonu Nigam would reach great heights.
"His blessing means a lot to me," the singer says. "And it also reminds me that one should never take success to one's head in this profession because luck and destiny play very important roles in one's success. But to continue to improve one's voice and remain faithful to one's calling is very important."
The North American concerts are significant to him, he said, because he was returning to give almost solo performances after a gap of nearly five-and-a-half years.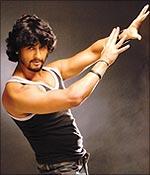 "The show is called Simply Sonu for very good reasons," he says. "I am going to be like a child before the audience, giving in to their requests. If they want the Veer-Zaara (Do Pal) song, I am ready for them. If they want Suraj Hua Maddham from Kabhi Khushi Kabhie Gham, I am ready for it. And I am even ready if they want me to sing any song, especially the songs of my idol, Mohammad Rafi."
Three-and-a-half years ago, Nigam was in America, performing for the A R Rahman show, opening it with the title song of Saathiya.
"But that was hardly my show," he says chuckling. "A lot has happened in the last three years, and my fans are eager to hear live my songs from such films as Parineeta (Piyu Bole and Soona Man Ka Angan), Paheli (Dheere Jalana), Main Hoon Naa. There are so many beautiful songs that I am going to sing for the very first time in a concert in America and Canada."
He recalls that when he sang live for the first time -- in New Delhi -- the Anu Malik composition Sandese Aate Hai from Border, he had no idea how big the song had turned out to be.
"There was so much of applause and demand that I sing it again," he says, of his first big hit, "I was too happy to oblige. Soon I got to know it was one of the most popular songs of its time."
1997 was a watershed year for the singer, and it should not be a surprise to anyone that many of his concerts feature his two famous songs in that year.
"On one hand, I had Sandese Aate Hai," he recalls. "And on the other hand, Ye Dil Diwana in Pardes was a huge hit. The second song proved that I could sing lively, hip numbers, that I was a versatile singer."
The break in Border came after nearly a decade of struggle in Mumbai, after he had sung a handful of songs for veteran composer Usha Khanna, whose career was on the decline, and a few numbers for Amar-Utpal, whose career was going nowhere.
"There were many good songs I had sung for many films," he says with a sigh, "but they were later 'dubbed' by established singers whose voice was retained in the films and on the tapes."
In spite of many setbacks, he got couple of mild hits like Accha Sila Diya Tune Mere Pyar Ka in Sanam Bewafa but nothing would match the success of his song in Border.
"I had sung a few minor songs for Anu Malik before Border," he continues. "But when he decided to give me a major break in Border, everything began to change for me."
A few years later, he would sing Saatrangi Re for A R Rahman in Dil Se. Among his favourite numbers for Rahman is Mera Rang De Basanti from The Legend of Bhagat Singh. "There is hardly a concert where that number is not featured," he says.
Nigam says one of his strongest supporters is his father, the singer Agam Kumar. "I think I must have been four years old when I first performed before a live audience, thanks to the concerts my father used to organise," he says.
Before he got his singing breaks, Nigam also acted in several films as a child artist but hardly anyone remembers him in films like Kaamchor.
"As a singer, there were not many opportunities 20 years ago," he says. "A professional singer had to find place in the movies to be successful. But when television began booming, people like me got many opportunities to show our talent."
Helping him to get a good foothold in the industry was the television show SaReGaMaPa. He hosted some 200 episodes of the show that brought him in contact with many top composers and singers in Mumbai.
He never really felt discouraged during his struggling days, he says. "I knew I had to wait for the right opportunity at the right time, and it came with Border".
Soon there were hit songs in films like Taal, Refugee and Pukar. And it looked like every composer wanted to use him. Along with Udit Narayan, and to a lesser extent Sukhvindra Singh, he became one of the hottest singers in the country.
Nigam married Madhurima Mishra four years ago, He met her the first time in 1995 when she attended a concert featuring him in Kolkata and went up to him to get his autograph.
"I don't want to be a wholesale movie singer," he says, adding that he has enjoyed enormously producing the pop albums, Mausam, Sapnay Ki Baat, Kismat and Deewana. He has also had fun hosting the television show Kisme Kitna Dum Hai and being a judge on Indian Idol.
"I know there will be many awkward situations when I say 'no,'" he says. "But I am hoping I will be able to strike a balance between movie singing, and my other interests."