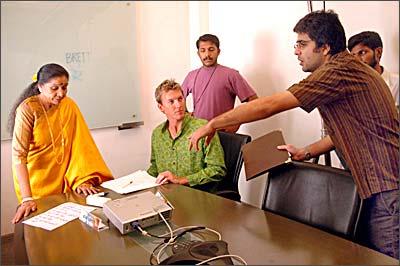 Now, here's a side of Brett Lee you may not have seen before.
The Australian cricketer will star in Asha Bhosle's latest album, Asha and Friends.
The cricketer apparently shot for the album in Mumbai during the recent Champions Trophy.
He has also sung some lines in English.
Seen in the picture with them are director Abhishek Ashok Mehrotra and director of photography Sahil Kapoor.
The album, whose music is composed by Shamir Tandon (Page 3, Corporate), will also feature Sanjay Dutt.
The album will be launched on November 20.
Text: Syed Firdaus Ashraf