Indian weddings, as Sooraj Barjatya discovered long before Mira Nair, are irresistibly elaborate parties, grand shindigs mixing cocktails with culture, and rituals with remixes. They translate perfectly to our screens, and all a director really needs is to keep the camera tightly closed on a shaadi. Bas.
But Barjatya's Vivah is far more ambitious than just letting a good cinematographer make a wedding video. The director has earnestly tried his hand at a full-blooded Bollywood movie, using his recurrent wedding theme merely as a backdrop.
Now if only he'd followed this idea up with real actors, something close to a plot, and someone who could write one line of actual dialogue.
Vivah is a nightmare. With a storyline and background score making you feel like you're trapped in a sadistically put-together marathon of soap operas, this isn't just a bad movie. There are lots of awful films out there, and one would ignore this, label it avoidable (wise course of action) and move on, but this is much worse than a mere bad film.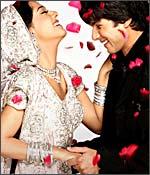 Vivah is unforgivably regressive. Under the guise of 'old-world charm,' the film paints an India that makes you wince, a disastrously worded world whose characters are not just saccharine but suicide-provoking. Alright, people in small towns are simple and charming, and yes, they are more prone to tradition than most of us, but in no way are they... what's the word? Ah yes, pathetic. Vivah is shameful simply because it makes you glad to be in a big city, and like another big release this year, it really makes you wanna give marriage a rethink.
There is precious little to be said for the story. Shahid Kapoor and Amrita Rao, an engaged couple almost wholly unacquainted with each other, have fallen in love -- the coldest, least passionate love you've seen in a while, by the way – and there is much rejoicing among their families as the wedding nears, except she's Cinderella. An orphan raised by her aunt and uncle, suddenly Amrita finds herself on the receiving end of hostility -- largely because her wedding dress costs too much.
The background score hammers cliche as tension takes over the narrative. With typically Barjatya style, people roll down staircases, Mohnish Bahl pops up (as a truly mean doctor), and the 'moments' are subtle enough to knock you into a snore. And while the lead pair can't act, the dialogue hurts even more than they do.
Picture Shahid mooning wistfully on a verandah. Amrita, ghoonghat covering her head, pops up behind him with a brass tumbler full of water, and mousily asks him if he'd like some "jal." That's right, these folk are inadvertently mean caricatures of the heartland, talking like absolutely nobody does. He sniffles, takes the glass and reaches for some ice when she cuts in. 'People with a cold,' she smiles at his sneakers, 'shouldn't ice their drinks.' Amrita smiles 'coyly' and scoots off, even as Shahid skips the ice and stands wondering how she realised he had a cold. While this rough translation from the unbelievable Vivah tongue might not have quite the same impact, it exemplifies the horror this film is packed with.
The only good thing that one can say about Shahid Kapoor is that he isn't awful. He isn't offensively bad, doesn't ham it up like crazy, or speak in a weird accent. Having said that, he isn't an actor at all, standing around working on his boyish grin, simply chewing up the scenery. No screen presence at all.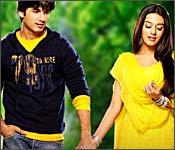 Amrita Rao plays a cow. Docile to a fault, the pretty girl ponders around the film, constantly getting in the way of the story. Her character is not just conservative but excessively given to world-pleasing. She sobs, she smiles, she scampers -- she does anything anyone wants her to do, making you wish someone tried asked her to be subtle. Her painful performance coupled with the horrible lines she's given singles her out as the film's weakest point -- so her having the maximum screentime isn't a positive.
Damn, how this film makes us miss Salman Khan and Madhuri Dixit.
Sooraj Barjatya is responsible for some very fine films. While simplistic and given to melodrama, his films are usually peopled by great characters. Believable folk walk through Maine Pyaar Kiya, and get much better by the time Hum Aapke Hain Koun comes along. The films featured good side-characters, and brilliant lead actors who made even their extreme earnestness and nobility believable. Cynics may scoff, but those films had heart. And lots of warmth.
This one pretends to be sweet. And ends up leaving a bad taste in your mouth.
Rediff Rating: No stars. Which also happens to be Vivah's top flaw.