His fifth film releases this Friday. Sooraj Barjatya, director of Maine Pyar Kiya, Hum Aapke Hain Koun, Hum Saath Saath Hain, and Main Prem Ki Diwani Hoon is quite ecstatic about his new Vivah.
Sooraj admits Main Prem Ki Diwani Hoon was a mistake. "After the failure of Main Prem Ki Diwani Hoon, which was based on my own idea, I went to my father. He then gave me this story saying that it will bring back my confidence as a director."
The director told Priyanka Jain about the film, Shahid Kapoor and Salman Khan.
What is Vivah about?
Vivah is the journey from engagement to marriage. It's that phase of life when one glows naturally. During the courtship period, we all do things to make the other person happy whether it is going kilometres to buy a card or dress up well to bring a smile to the partners lips.
But after marriage, the zing goes away as day-to-day issues crop up. I hope after watching Vivah people will relive those moments and bring back that effort in their marriage, so that there will be fewer disturbances in marital life.
What are Shahid and Amrita Rao's characters like in the film?
Shahid plays Prem, a soft-spoken modern Delhi boy while Amrita plays Poonam, a traditional Indian girl from Mathura.
In the film, Prem and Poonam meet each other for the first time first time through their families. After engagement they have a six-month courtship. In this process they talk, spend time together. When they hold hands for the first time, it conveys that they have accepted each other.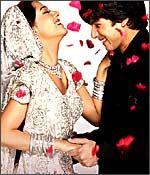 Is it based on a real-life story?
Like for all my earlier films, my father gave the subject. All my films have had emotional alleviation of the characters and an emotional climax. This film is based on a newspaper column my father read 16 years ago.
In an age where young people are questioning the very institution of marriage, how well do you think they will accept a film like this?
Marriage is just a backdrop of the film. It's a family-oriented film. People ask me why I don't make films in other genres. The family audience is from children to 80 year olds. Where else do you get such a big expanse? There are so many stories revolving around relationships to be told.
In the film, the girl's family is not asking her to just marry a guy of their choice. They tell her to consider it, but make her own decision. Arranged/love marriages are all roads that finally lead to finding a life partner, and why not try and take advantage of the parent's experience? I honestly believe our parents know us much better than ourselves.
Don't we all go to temples to pray, sometime or the other? That simplicity will always remain in us. We all believe in good things and moments in life. I think this film will come as a whiff of fresh air amongst the fast-paced films.
In the five films that you have made your lead hero's name has never changed. How was this 'Prem' born? Why do you repeat that name in all your films?
This goes back 15-16 years back when I wrote my first film Maine Pyar Kiya. Salman, our team, and I were debating on what to name the character. We thought we would name the character from the biggest hit of Rajshri productions, which was Nadiya Ke Paar. But the hero was called Chandan in that film, and it didn't sound very interesting so we went on to the next big hit Dulhan Vahi Jo Piya Man Bhaaye. The hero in this film was called Prem, So we lifted the name from there. For me, the word Prem represented a shy, sensitive character which is so dear to me.
You come across like Prem. What's the connection?
Prem is what I am and to some extent what I would like to become. Every filmmaker has his own reflection in the film so you can say in some parts Prem is like me, and in some parts what I would like to be. 
Salman's poster appears in Vivah. Is he is your lucky mascot? Why didn't you take Salman for this film?
Salman's poster being a part of the film was mere coincidence. While filming in Ghaziabad, his film poster was stuck on a clock tower.
The film is about a 25-year-old, so how I can take a 40-year-old for the same? Shahid is a sensitive, versatile actor. He has given his own interpretation to the character by playing today's man. I'm waiting for Salman to see the film, and tell me how Shahid has done.
Today in an age of slick, high-tech entertainers, where do you think your film with its old-world charm will stand?
In this age, people still come to see a village film or a period film. Rang De Basanti had Bhagat Singh, Lage Raho Munna Bhai had Gandhi… There is nothing like a multiplex or small town film. A good film is a good film.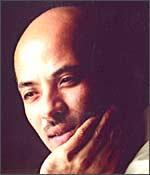 Every maker has his own sensitivity. The films of this genre come naturally to me. Relationships and their depth are what I like to portray in my films. My grandfather always said that Rajshri Productions is here to provide wholesome family entertainment.
I have not made a film thinking that 'this' is the audience for which I am making it. Every filmmaker makes what he believes in, otherwise it will not look real on screen. Due to the Main Prem Ki Diwani Hoon experience, I learnt I should make what I can and not look at marketability. I hope the audience comes and appreciates the film.
Over all these years, you've only made five films. Do we get to see your films more regularly in the future?
Rajshri Pictures has completed 60 years. It's a very emotional moment for all of us. As a production house, we have plans to make 2-3 films from next year and are looking at promoting young filmmakers. But as a director, I can make a film only when I am ready to. I do the writing myself, and then till I live those characters, I can't make a film.