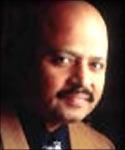 You must have heard Aamir Khan singing 'Sue kar kere man ko' trying to woo British actress Alice Patten in Rang De Basanti. But few will recall that the man behind the original song from the 1981 Amitabh Bachchan hit Yaarana -- Chhukar mere man ko -- is music director Rajesh Roshan. 
After more than 30 years in the industry and composing music for more than 100 films, Roshan is quite gungho about the way the music of his latest film, Krrish, is selling.
"I have been told that the first unit of Krrish's music released in the market has already been sold out and now they are releasing a second lot. It is on the top of music charts," claims Roshan.
| | |
| --- | --- |
| | Krrish on rediff.com ! |
| | |
His legendary musician father Roshan passed away in the 1960s, when both the brothers Rakesh and Rajesh were very young. Rakesh Roshan opted for acting and then turned to direction; Rajesh Roshan took to music and is still comfortable with a composer's life.

He assisted music directors like Laxmikant-Pyarelal and later on got his first break with actor Mehmood's film Kunwaara Baap in 1974.

How have times changed?

"In the earlier days, people used to be very emotional about making films," says Rajesh Roshan. "There used to be a great friendship between music directors and directors; today that is missing. I was great friends with Rakesh Kumar, B Naggi Reddy and Yash Chopra. Now there is more of of an aap aap [formal] culture in the industry. There is a very formal attitude that has crept into the industry. I miss those days."

He also feels they don't make singers like Kishore Kumar and Mohammad Rafi any more.

"You see my song Chhukar mere man ko from Yaarana is still recalled fondly by today's generation because there was a depth in Kishore Kumar's voice. He never sang more than 12 songs a month and put all his efforts to make the songs beautiful. I miss all those things today," Rajesh Roshan says.

When asked what is the one thing he misses the most in life today, pat comes the answer: "Excitement."

After a long pause, he continues, "I don't get excited on hearing about the subject of any film. I just don't feel like composing music for films because I find there is too much pretence in the industry and creativity has been replaced by the sole thought of making money."

The only person he is at present working with is brother Rakesh Roshan.

"We share a good chemistry and therefore the best comes out of us," says Rajesh Roshan.

In the last 20 years, the director-composer duo have given us hit films with memorable music like Khudgarz, Khoon Bhari Maang, Khel, Karan Arjun, Kaho Naa Pyaar Hai and Koi Mil Gaya.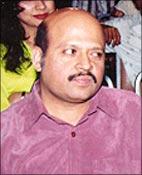 Don't the two ever disagree?
"Of course we do disagree," says Rajesh Roshan. "But as professionals, we understand each other very well. Every film is a learning process for both of us. Filmmaking is not a business but an examination in which I have to pass as a music director and he has to pass as a director. I have learnt a lot from my brother and he too has learnt a lot from me. It has been a wonderful journey for both of us. We convince each other all the time with our view points and finally work as a team and not as individuals," he adds.
Recently, a newspaper report said a song from Krrish has been lifted from the national anthem of Turkey. The music director flatly denies the allegations.
"If you recall, the song Chumma chumma de de was from the film Hum and Tamma tamma was from the film Thanedar. Both had the same music lifted from somewhere else. Nobody spoke about the original song but only the lifted Hindi songs. So, I don't want to comment further on this issue," he adds.
Does he get time to listen to his father's music? All the time, thanks to Mumbai's traffic, says Rajesh Roshan.
"I get time to relax during traffic jams. And it is only there I listen to my father's music. He composed some beautiful songs from Taj Mahal and Chitralekha. His song Man re from Chitralekha is one of my favourites," he adds.
Few know that Roshan -- Rajesh and Rakesh's father -- was one of the people who gave lyricists Indeewar and Anand Bakshi their Bollywood breaks "He was in a way responsible for giving them the spotlight," admits Rajesh Roshan.