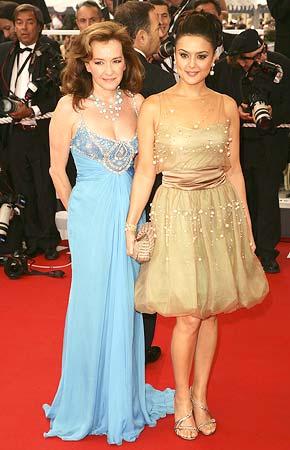 Unlike Aishwarya Rai, who arrived at the opening night of the 59th Cannes Film Festival in black, Preity Zinta decided to add more colour on the red carpet.
This is Preity's debut at the Cannes fest, and she was escorted by Caroline Gruosi-Scheufele, the president of jewellery giant Chopard.
Preity -- looking very glamorous -- attended two premieres: The Wind That Shakes The Barley and Paris, Je T'aime.
Gurinder Chadha was one of the directors on the second film. It has 20 parts, each segment directed by a different director.
The film stars Elijah Wood, Emily Mortimer, Natalie Portman, Catalina Sandino Moreno, Maggie Gyllenhaal, Elias McConnell, Juliette Binoche, Steve Buscemi and Miranda Richardson, among others.
Photograph: Getty Images