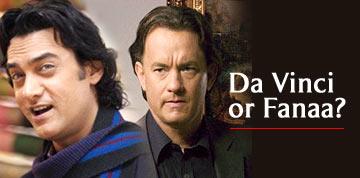 Now that the censorship controversy appears to have quietened down somewhat, the verdict seems clear.
The Da Vinci Code will release without cuts, but with an 'A' certificate and disclaimer saying it is a work of fiction.
But, because of all the last-minute fuss, the film hasn't released today. Which means Ron Howard's blockbuster will compete with the Aamir-Kajol starrer Fanaa next week.
This makes it a tense time for distributors and theatre owners, but also a difficult choice for audiences.
Which film will you watch -- Fanaa or The Da Vinci Code?