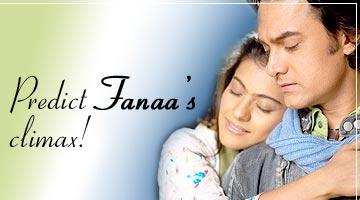 Fanaa, starring Aamir Khan [ Images ] and Kajol [ Images ], is one of the most-awaited movies this year. And yet, producer Aditya Chopra [ Images ] and director Kunal Kohli are extremely tightlipped about the film.
Even the film's story remains a mystery.
While it is assumed that Aamir Khan plays a terrorist, Kajol plays a blind Kashmiri girl. But one wonders what Tabu's [ Images ] contribution in the film would be. And what the story will revolve around.
Will Fanaa [ Images ] be another Maachis? Or a 1942: A Love Story?
Besides, the title -- which means to die for love -- makes us wonder if Aamir will die once again, after Mangal Pandey [ Images ] and Rang De Basanti [ Images ].
Well, let's see how you would handle the story if you were the director.
Predict the end of Fanaa. And we will showcase your writing talents right here!