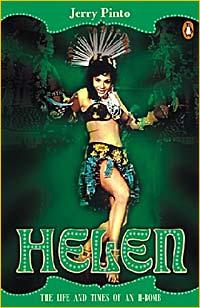 It's been a long time since the lady they call 'the original item girl' set the screen on fire. And yet, the name Helen continues to yield images of those bright, seductive dances of a time long past. She continues to dance, joyfully, into our collective consciousness.
Jerry Pinto's latest book, Helen: The Life and Times of an H-Bomb, takes a close look at the life of this phenomenon. It is well researched, extremely readable, and chock full of facts and ideas about why Helen managed to carve her own special niche in an industry she was foreign to. It addresses the question: Why did a refugee of French-Burmese parentage succeed as wildly as she did in Bollywood?

Making sense of Helen
Helen was wooed by everyone...
Sounds interesting? We present an exclusive excerpt from Helen: The Life and Times of an H-Bomb, which will be released in Mumbai on Friday, March 31.
It wasn't quite lust that Helen aroused, although her dance numbers were chiefly about the pleasure men derive from the female form in motion. Helen was the desire that you need not be embarrassed about feeling. You could forgive yourself that feeling because there was something about her that transcended the tawdry clothes, the bizarre make-up, the invasive camera angles, the inane lyrics and the repetitive choreography and suggestive movements. These days she is often spoken of as "the original item girl".
Like all journalistic short-forms, this one has its elements of truth, but Helen was not just an "item girl". As we'll see in later chapters, she had a much more important role to play in defining the moral universe of the Hindi film. And if she managed to break out of the slot of the item -- as she did in many of her films -- it was because she had charisma. She had the mix of innocence and sensuality that separates the girls from the women.
The imitators were exciting too -- Padma Khanna's Husn Ke Laakh Rang(The Myriad Aspects of Beauty) dance in Johny Mera Naam (1970) as she is stripped by a lecherous, bloated Premnath is still spoken of in hushed whispers among thirty- and fortysomethings. But there was something of the baazaar about them.
Perhaps this was because Helen was always an unseen presence that they were all, without exception, desperate to exorcise. Perhaps it was because they were not very good dancers, or that they did not seem to be enjoying themselves in the way Helen seemed to enjoy herself. Whatever the reason, the imitators did not seem present as people. It is not as if they acquiesced to being objectified; just that the male gaze succeeded with them. It did turn them into dancing dolls, into faceless women with generic bodies. Helen escaped that fate by leaving a very personal imprint on the dances by which we best remember her.
Part of this is the inimitable ease with which she executed whatever steps she was asked to do, moving from flamenco to belly-dancing to kathak as to the manner born. But the most important element was her joyousness, the exhilaration of her dancing. She could create the ultimate male fantasy: the dancer who wanted to dance; the woman for whom dancing was as much about her enjoyment of her own body as it was about your enjoyment of it.
Looking back, it seems odd that Helen had such a hold on my generation. I grew up in the seventies -- the decade when Helen's career was already in decline -- and like most middle-class boys, I was allowed one film a month at the theatres by parents suspicious of its moral and aesthetic values (in that order). Helen could not invade my space through television, either. Hindi films had exactly four hours a week on the air. There was the three-hour pre-censored film on Sundays, the half hour of uninterrupted film songs that was Chhaayageet and another half hour of a film interview, Phool Khile Hain Gulshan Gulshan, conducted by a bubbly, harmless child-star-turned-character-artiste, Tabassum. This was all the government would allow on Doordarshan by way of bread and circuses. The rest of the time, we were 'educated' on such improving topics as the use of copper sulphate on the farms of the hinterland or we watched kabaddi tournaments played in deserted stadia.
So I shouldn't have remembered Helen at all, or barely. Or, at best, remembered her as a woman past her prime, showing up only in a song sequence or two and then vanishing, for that was her major contribution to cinema in that era. Instead, I think of her as The Vamp, the first name that comes to mind, the only name sometimes, the rest only as also-danceds. I watched the final moments of the Helen era, knowing that it was the final moments without saying it out loud. Or maybe I did, just once. Coming out of Don(1978), I remember turning to a friend and saying, "Gosh, what a body Helen still has!"
Implicit in this remark was, "For a woman her age." I did not know her age then but I did know that she had been around for a while. I did not even know how long a while.
Helen seems to have transcended my slice of time.
Excerpted from Helen: The Life and Times of an H Bomb by Jerry Pinto, Penguin India, 2006. Courtesy, Jerry Pinto.